This Issue
Summer 2020
July 19, 2020 By DIVER Editorial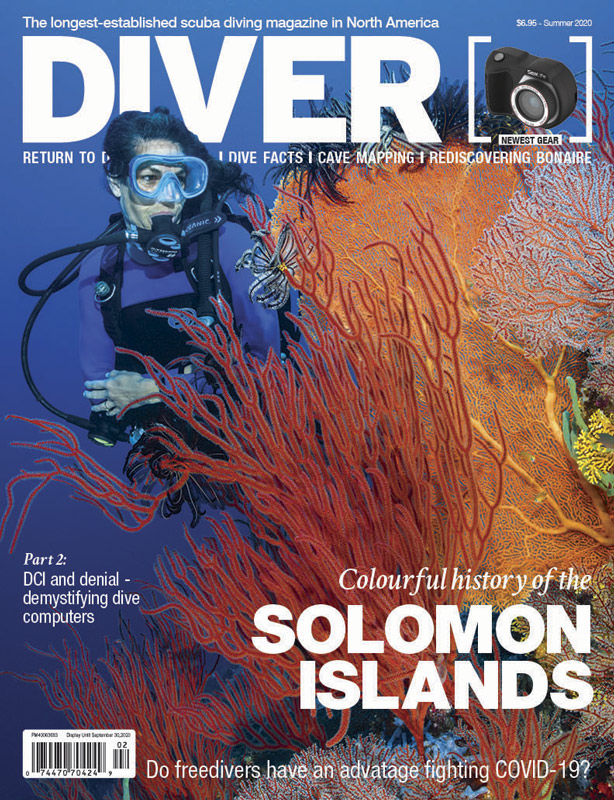 Digital issue – Summer 2020 available to read now. Subscribe for direct delivery of our glorious print magazine!
Features this issue:
EXCLUSIVE: Pat 2 – Jill Heinerth discusses decompression illness and denial, part two focuses on demyst the dive computer
EXCLUSIVE: The colourful history of the Solomon Islands, by Brandon Cole
EXCLUSIVE: Back to Bonaire – revisiting diving's paradise as a father
EXCLUSIVE: Diving Newfoundland – does it get any better?!
EXCLUSIVE: Interview with Melodie Trevino
Columns this issue:
Being Digital with Michel Gilbert & Danielle Alary
Freediving with Kirk Krack
Technical Diving with Steve Lewis
Cave Diving with Natalie Gibb
Citizen Science with Heather Creech
Kids and Diving with Margo Peyton
Safety by Divers Alert Network
Dive Travel by Fly & Sea
Tech Diving History with Michael Menduno
Future Oceans with Jean-Michel Cousteau
Eau Canada
Dive News
Dive Facts with The Diving Almanac
You can read the issue online right now!