Is the consideration objective or subjective? The decision is yours….
By Michel Gilbert & Danielle Alary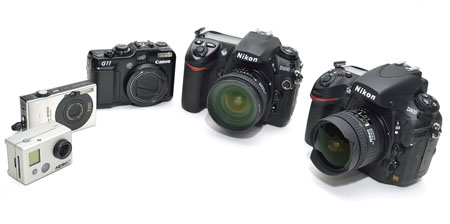 Manufacturers offer the latest and the greatest, but which camera is the best one? From beginners to old salts, underwater photographers are always talking gear and one perennial question concerns the 'best' camera on the market. Is there just one?
The Problem
You meet an old friend who has been away for a couple of years and whose addictive involvement in underwater photography is no different than your own. Within the first five questions the following will surface: "What do you shoot with these days?" Translation: "Are you sure you have the best camera?" or, "My camera is better than yours."
Why are we always asking that question?  Is it some form of obsessive-compulsive disorder that affects those who breathe too much Nitrox?
Imagine Michelangelo meeting Leonardo Da Vinci at the bistro and asking, "Hey pal, what kind of brush are you using these days?" We doubt this would be within the first few questions they would ask each other. In all likelihood, they would talk about subjects, light, perspective, composition, comment on some art they had recently seen or discuss Italian politics and Vatican stories.
When you visit a museum or browse a museum website looking at images of famous paintings or photographs, what matters the most? The support on which the image was painted? The type of paint used? Probably not.
So, why focus on the camera, the lens or the strobe someone is using – outside of curiosity? Why do you need to switch gear, buy newer material?
Photographer Ansel Adams said, "The single most important component of a camera is the twelve inches behind it." This insight gets to the heart of good photography and it comes from one of its most revered masters.
Listen carefully: There is not a single best camera on the market. There are many cameras from the most humble to the most expensive, all meant to be tools in the hands of creative people.
It all depends on your goals, your budget and your skills. 
Sky's the limit
For compulsive shoppers, underwater photography is a never-ending source of satisfaction. Manufacturers constantly bring products to the market. It looks as if photography has turned into Haute Couture… a new collection for every season.
However, inasmuch as it may be fun to wear a Chanel dress or an Armani suit, a pair of Levi's may be just fine  – and sometimes better for the job.
For example, GoPro has changed the way we view the world. All major networks air images captured with this humble camera.  At $300 it captures video AND still images, in a package that is so small that it can travel anywhere. 
Next step up comes the dedicated compact camera, something like a SeaLife DC 1400 or a Canon, Nikon or Olympus digicam. Modern compacts offer a host of options and produce exquisite images.  These cameras can sync with external strobes and increase picture taking capability under artificial light as well as providing macrophotography capability.
For a little more money, an EVIL system can be considered, either the entry level type like Sony's NEX series or the newer and most interesting Olympus OM-D E-M1 or M5 type.  Then comes the DSLR realm where cameras range from $500 to $3000+.
Don't assume the most expensive you can afford is necessarily the best tool for you.  The camera is a tool at your disposal, used to make an image, not the objective (no pun intended).
A friend recently stepped up from her well-known SeaLife outfit and bought a 'pro' DSLR camera/housing system. On her first trip – to the Maldives – she brought both systems just in case there was a problem.
Upon returning from abroad she e-mailed us: "Darn, I spent all those $$$ on my pro camera and my best pictures turn out to be the SeaLife ones." Of course, the pro system had lots of capabilities and in the right hands could produce exquisite images. However, she had mastered her small camera system and, in the end, her experience in handling and working with the SeaLife made the difference. The images she produced with this quality compact were wonderful.
It turns out that the best camera is the one you master and use the most. It is the camera that tickles your mind, fires your imagination; the camera that lets you make images that come from the heart and the mind and materialize on the digital canvas of today.
In the end
Ansel Adams saw the future and he said: "I am sure the next step will be the electronic image, and I hope I shall live to see it. I trust that the creative eye will continue to function, whatever technological innovations may develop."
So, in the end, it is all about one thing: The creative eye. We all have one, if not two… and they're free!
DIVER MAGAZINE. NORTH AMERICA'S LONGEST ESTABLISHED DIVE MAGAZINE. SUBSCRIBE TODAY.