Books, Movies, TV
Essential box sets for the any diver's film library
April 23, 2014 By DIVER Editorial
Ocean Adventure by Remote Control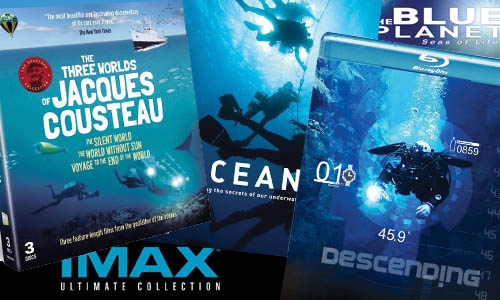 The Blue Planet
DVD/Blu-ray
Possibly one of the most impressive and beautiful series to ever grace the small screen. Five years in the making and narrated by David Attenborough, it's become an all time BBC classic. Covering everything an ocean lover could desire, from plankton to blue whales, spectacular aerial photography to macro marvels, corals to tides, and so much more. Includes 80 minutes of behind the scenes footage that every diver will find as interesting as the episodes themselves. Blue Planet is the definitive ocean video encyclopedia, now 13 years old but still essential viewing for the informed diver.
www.shop.bbc.com
---
Jean-Michel Cousteau 3D Film Trilogy
Blu-ray
As 3DTV begins to infiltrate more homes, this collection offers non-divers an opportunity to immerse themselves in all the drama of our aquatic world. DIVER contributor Jean-Michel has made three, 45-minute long documentaries in high definition 3D.  Sharks 3D (originally an IMAX movie), Dolphins and Whales 3D, and Ocean Wonderland 3D. As you'd expect with Jean-Michel, an educational element compliments the thrilling, and sometimes eye-poking, images.
www.oceansfutures.org
---
Jonathan Bird's Blue World
DVD
Three seasons of Jonathan Bird's Emmy Award winning and family orientated show are for sale on the show's fun website, which also hosts some great video extras: webisodes and behind the scenes fooage. A fantastic educational resource for all ages, wonderfully produced and a thoroughly enjoyable show, especially for those new to diving.
www.blueworldtv.com/shop
---
IMAX Ultimate Collection
DVD
You don't need a TV the size of a house to enjoy this box set. Twenty films in the IMAX collection offer a retrospective on the past two decades of large format film making. Includes classics Mir Space Station, Blue Planet, Deep Sea, Galapagos, T-Rex and a couple more experimental features. Sometimes this set can  be found in the odd bargain bin and is a fantastic collection for the price.
---
Clive Cussler's Sea Hunters
DVD
Two seasons of the eight episode show are now available on DVD. Each episode dives into a different World War II wreck, with Cussler himself, archaeologist James Delgado and a team of divers hoping to unlock the truth behind the sinkings and historical events of the day. Great visuals, interviews with survivors and witnesses, and bonus footage seen only on the DVD  release.  As close as you can get to being Dirk Pitt without leaving the sofa.
---
Oceans
DVD
Another fantastic nature series from the BBC. Hosted by Philippe Cousteau with British Explorer and diver Paul Rose,  this three-disc box set follows a team as they dive to uncover the secrets of our oceans. Covering a host of 'ologies' including geology, archaeology, marine biology and anthropology. Oceans serves up fantastic underwater footage from seven different oceans.  A great series that you'll watch over and over again.
www.nature.disney.com/oceans 
---
Whale Wars
DVD /Blu-ray
The Animal Planet series helped put Sea Shepherd Conservation Society into the public eye.  Multiple seasons of this long-running show make for a thrilling, action packed roller coaster ride.  Paul Watson leads the war against Japanese whalers in Antarctic waters commanding a fleet of vessels that engage in often controversial tactics that include ramming, boarding, and even throwing stink bombs. Reality TV at its best, and well worth owning if you've never seen the show before.
www.animalplanet.ca
---
Jacques Cousteau Odyssey Complete Series
DVD
640 minutes of the 1978, twelve episode series, an essential companion for any dive live aboard vacation. Despite little restoration work on the original print, the series still rates as one of the best ever committed to film. Follow the expeditions of Jacque and Philippe aboard the Calypso and Catalina, down the Nile River and into the Mediterranean, investigating and revealing the aquatic world as they go.  A true classic. We hope a fully restored Blu-ray version is on the way…
---
Descending
Blu-ray
Descending should be on your wish list for later this year. Stunningly shot by Andre Dupuis, the series follows globe trotting friends and hosts Scott Wilson and Ellis Emmett as they descend into the world's oceans, in glorious HD that is most impressive even if you happened to see the original broadcasts. Shot on RED cameras, the cinematography is worth buying a new TV for, although even the best sets can't do complete justice to today's HD quality.
www.descendingtv.com
---
Jacques Cousteau Movie Collection
Blu-ray
No diver's DVD collection is complete without content from our favorite Frenchman. Silent World, Voyage to the Edge of the World, and World Without Sun have been wonderfully packed into one Blu-ray box set. Everything was shot in 4×3, so don't expect wide screen HD, but you can expect twenty years of seminal film making presented gloriously on your large, shiny flatscreen.
---
Sea Hunt 24 Hour Marathon
DVD
Twenty-four hours of Sea Hunt you say? Now that's worth calling off a day's diving for! Ex-Navy Frogman Mike Nelson, a.k.a. Lloyd Bridges, dives into one adventure after another, outwitting villains, rescuing victims trapped underwater, and even salvages a nuclear missile. A ton of episodes featured from the four seasons this early and influential show offered from the late 1950s into the early 60s. If only we had something like this today….