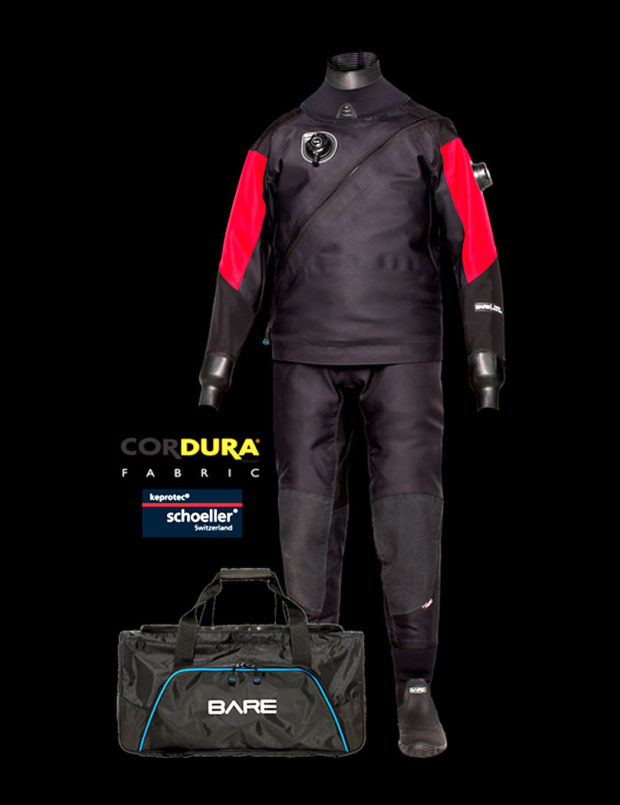 BARE have announced their HDC TECH DRY, a durable new drysuit designed for avid recreational, technical and professional divers who require an extra level of protection.
"The HDC TECH DRY fills a long-standing need in the market," explains Tommy Aoki, Brand Manager for BARE. "It's an exceptionally tough but lightweight drysuit that can endure heavy use in rugged environments where you could encounter sharp or abrasive surfaces that would eventually damage normal suits."
"This is absolutely the toughest suit we've ever made. We're using three types of highly protective stretch fabrics to ensure maximum comfort and mobility. With a full cordura body, Keprotec kneepads made with Kevlar as well as lower sleeves, shoulders and seat reinforced with Cordura Ripstop, the HDC TECH DRY is practically bulletproof. These fabrics are amazingly lightweight, and along with our attention to fit, they're also extremely comfortable. And like all our drysuits, the seams and workmanship are guaranteed for life."
BARE also employs other proprietary manufacturing techniques and processes to ensure a more comfortable fit. These include the patented Automatic Torso Recoil system, which controls torso length and eliminates the need for a crotch strap. The efficient anatomical design does away with needless bulk and improves aqua dynamics. A removable inflator valve backer pad improves comfort when being 'squeezed' at depth.
"We've put a lot of thought and effort into this suit," says Aoki. "We're very, very proud of it. It's got so many extra features that divers appreciate. But first and foremost, it's tough. Tougher than anything out there. These suits will last a long, long time."
For the more technical/cave diving minded, the HDC also comes in an Expedition model, with a slim "cave cut" design and crotch strap, and includes two high volume tech pockets, tech boots, Apeks valves and our new Sealtek dry hood.
The HDC TECH DRY is offered in 16 standard sizes, red or black, as well as a custom made.
Unfortunately the drysuit is currently only available for men.
Click here for more information.
DIVER MAGAZINE. NORTH AMERICA'S LONGEST ESTABLISHED DIVE MAGAZINE. SUBSCRIBE TODAY.