Words by Jill Heinerth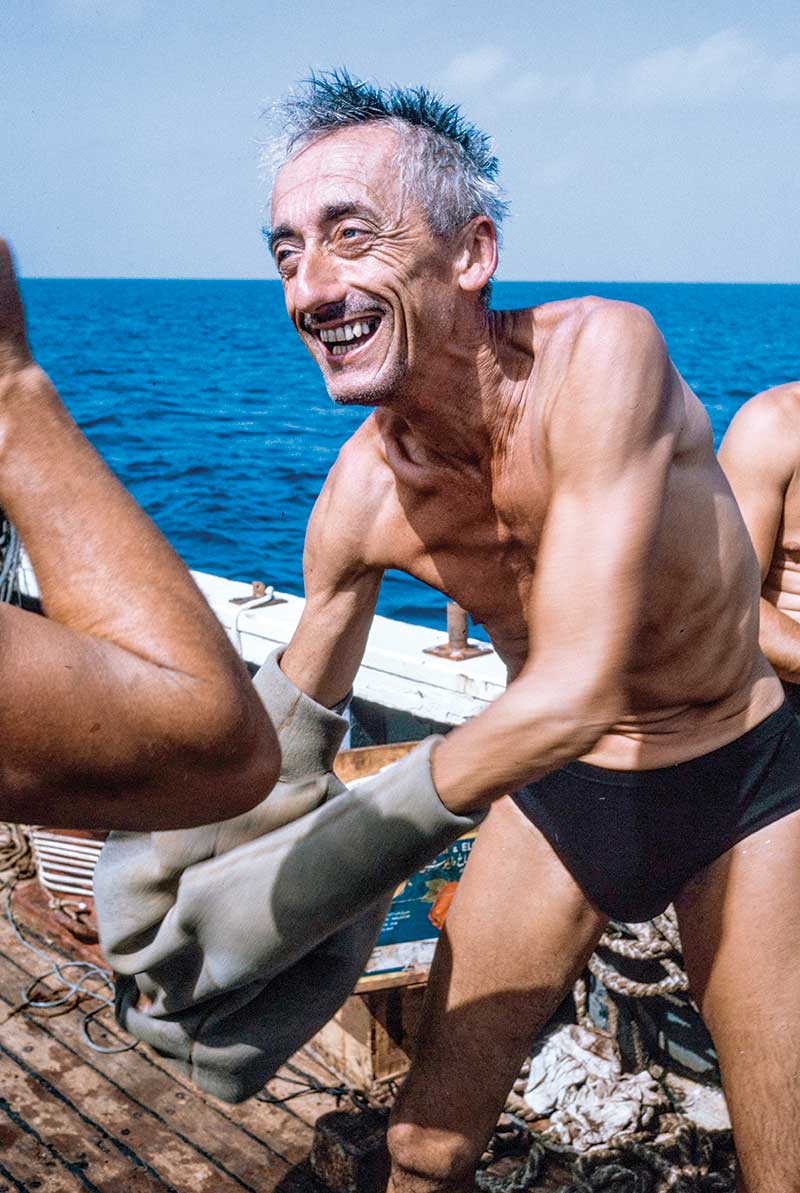 When I was a little girl, we had two channels available on TV. Everyone in my neighbourhood had the same stations, which meant we all had a common media diet. On Sunday evenings, we crouched in front of the black and white television, with dinner in hand, ready to watch Cousteau and his team on their undersea adventures. His early films were mesmerizing, leaving us all with a sense of curiosity that spilled into the classroom on Monday morning. "Did you see the giant octopus?" If you missed the show, you were in a small minority.
Jacques-Yves Cousteau and his underwater explorations became synonymous with a love of science and the natural world for over four decades. He might also be credited for single-handedly creating the explosion of interest in the sport of scuba diving. By communicating a sense of wonder and possibility, he captured my heart and encouraged me to pursue an unconventional career. He was my favourite super-hero, except he was real.
National Geographic Documentary films and two-time Academy Award-nominated filmmaker Liz Garbus have paired up to give us Becoming Cousteau, an inside look at Cousteau and his life, his iconic films, inventions, and the experiences that made him the 20th century's most renowned environmental voice.
Becoming Cousteau uses his diaries and archival film footage to follow his growth from naïve adventurer to entrepreneur, filmmaker, innovator, author, celebrity, conservationist—and the man who inspired generations to protect the Earth.
His seemingly miraculous footage was inspirational as a child, but I never knew the backstory behind his growing cynicism and palpable frustration. After losing his younger son Phillippe in a plane crash in 1979, he became vocal about the ocean's calamitous change. He was, "Shocked by the speed and shamelessness with which the industrial interests have thrown away all the environmental measures so laboriously taken." He exposed the dumping of toxic chemicals off California and made the films Time Bombs at 50 Fathoms and Mediterranean: Cradle or Coffin. And with Philippe gone, he vowed to work himself to death to protect the planet.
Watching him transition from uninformed youthfulness and ignorance to ecological awakening left me with a sense of hope. His voice and visibility were clearly evident in the early 1990s as he spoke at the Rio Earth Summit and campaigned to protect Antarctica. Although he died in 1997, he brought early attention to climate issues, water literacy, and the concept that the Earth is a single thermodynamic entity. As he learned to protect the environment, he brought the whole world with him, sounding alarms more than 50 years ago about warming seas and our planet's vulnerability.
Becoming Cousteau is produced by Story Syndicate, in association with The Cousteau Society and Ace Content for National Geographic Documentary Films. Producers: Liz Garbus, Dan Cogan, Mridu Chandra, and Evan Hayes. Executive Producers: Julie Gaither, Carolyn Bernstein, and Ryan Harrington. 
Becoming Cousteau is now available on Disney+