Words and Photography by David Fleetham & Tim Rock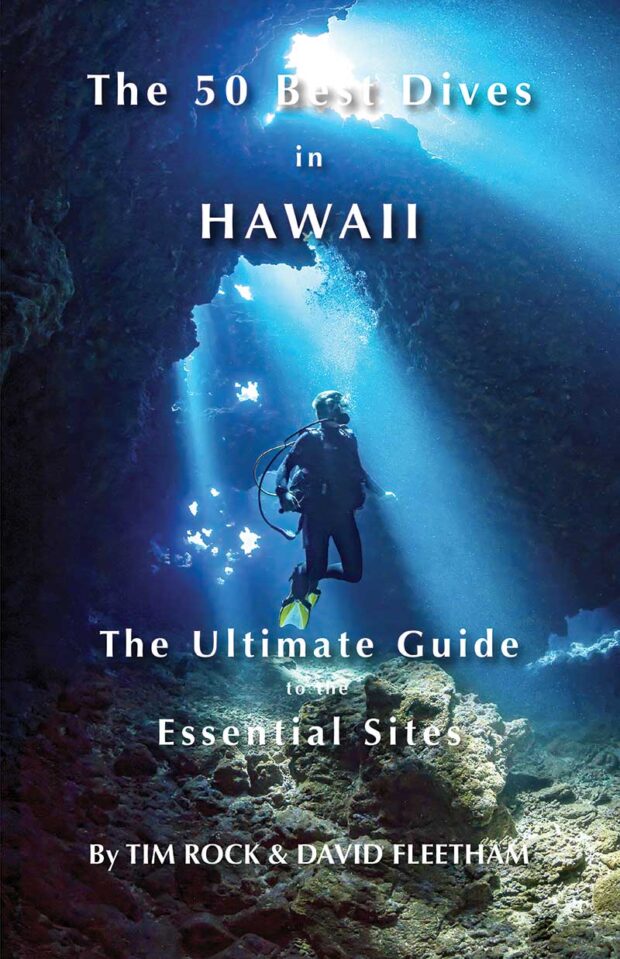 I moved to Maui in 1986 for a year or two, and never left. I have been fortunate to work as an underwater photographer and travel to most of our planet's oceans, but I always look forward to coming back to Hawaii, where I have made thousands of dives all over the state.
Tim Rock, my co-author, has put together four other books in the 50 Best Dives lineup including Micronesia (he lives on Guam), Indonesia, The Philippines and Japan. He has been to Hawaii several times and we have been on many diving adventures together, so there was no hesitation when I suggested adding Hawaii to this collection. 
Often thought of as a stepping stone to the South Pacific, Hawaii has been overlooked by many divers. Getting underwater here guarantees you will see species that you have never encountered before. Somewhere around 23% of the fish are endemic and mollusks and crustacean follow a similar path. 
The 50 Best Dives in Hawaii is for active divers and armchair travelers alike. It takes the reader to not only the popular spots in the region, but also some of the lesser-dived yet most fascinating locations. The book is a veritable candy store of the finest diving and snorkeling Hawaii has to offer and gives you a great tour of the waters of this special state.
The following are a few of the sites from the book…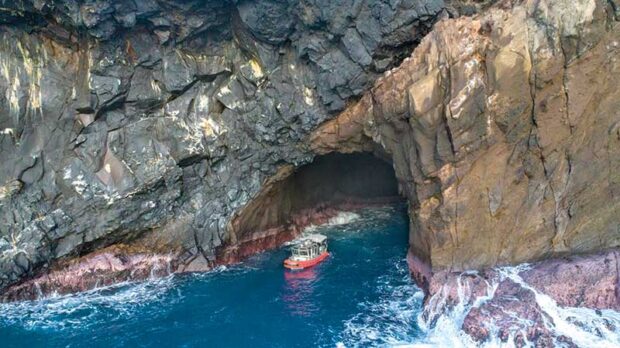 Dive site: Keyhole
Location: Outside NW tip Lehua Rock
Depth: 15-60-130ft (4-18-40m)
This site is named more for the topside topography, as there is an awesome lava rock formation resembling a giant's keyhole. The crack continues underwater and then a wall drops to a cave at 130ft (40m). One of our last dives here was to photograph a rare anthias that can only be seen at depth on two sites around Maui. Since the last two bleaching episodes in 2014 and 2015 and the unusual warming of the water, it seems likely this species has dropped deeper to a more comfortable temperature. The black coral tree can be found here, often with longnose hawkfish.
This dive is normally done as a drift dive going either north towards Lehua Gardens or south to Pyramid Point, depending on the current direction. Expect numerous sightings of gray reef sharks patrolling the blue and whitetip reef sharks. Large schools of jacks, unheard of around the main islands, cruise many of the stunning sites here.
You'll know when you have made it to Lehua Gardens by the vast fields of leather coral; look for vertical lava tubes that begin at 25ft (7.5m) and drop to 65 (19m). In the other direction at Pyramid Point, you end up in the namesake school of pyramid butterflyfish. A protected ledge up shallow is a great place to spend your safety stop and look for octopuses.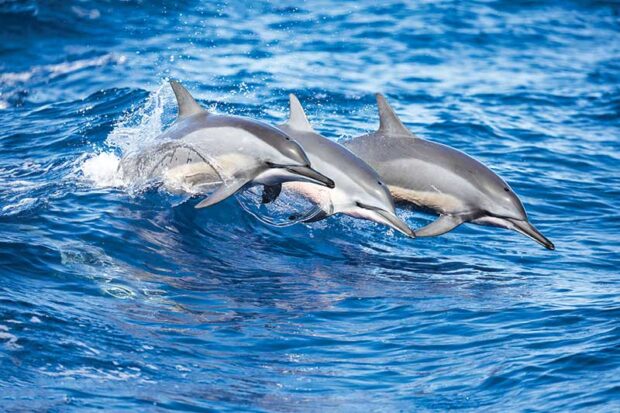 Dive site: Moku Manu
Location: off Makapuu Point
Depth: 60-90ft (18-27m)
Moku Manu, or 'Bird Island' in the Hawaiian language, is an islet off the exposed northeast side of Oahu, three-quarters of a mile off Mokapu Peninsula between Kailua and Kaneohe. Moku Manu and an adjacent small islet are connected by an underwater dike. Its highest point is 202ft (62m) high, bordered by near-vertical cliffs on many sides. Moku Manu, like its neighbours to the south, Manana, Kāohikaipu, and Mōkōlea Rock, is protected as a state seabird sanctuary. Regardless, landing by boat is nearly impossible due to the lack of a safe beach.
Moku Manu's isolated nature makes it an excellent nesting site. Eleven species of seabirds nest on here, along with several migrating shorebirds. Most days this area is a blown out mess on the surface so you must select one of the rare times this is safe to dive. Spring and fall often have a few days of light winds and a Kona (Southerly) storm system can have one day of shifting directions in which to sneak out as well.
The first thing you will notice underwater is more fish. Isolation has enabled life to flourish here, with one caveat: the creatures are not used to seeing divers so they are difficult to approach. You will see the tail end of many green sea turtles as they swim away.
The cave, seen above with the boat, is a common starting point for most divers. It drops to 90ft (27m) and you will want a light to look for groups of lobster along with several species of moray eels. Deeper inside is a type of shrimp that never sees the light of day, as well as strange sponges resembling fungi found in old rainforests. Outside, schools of unicornfish pulse over nibbling parrotfish much larger than found elsewhere, picking at coral polyps on the extensive covering of hard corals. The northern island's seaward side has a shallow shelf that drops deep and then really deep into the abyss. It holds a forest of black coral and critters.
Divers can also check the blue for dolphins and pelagics. Most dives here are live boat drifts, so bring an inflatable safety marker that you can deploy underwater as you begin your three-minute stop. Strong currents can carry you far from the site in this brief time so a sausage is a necessity.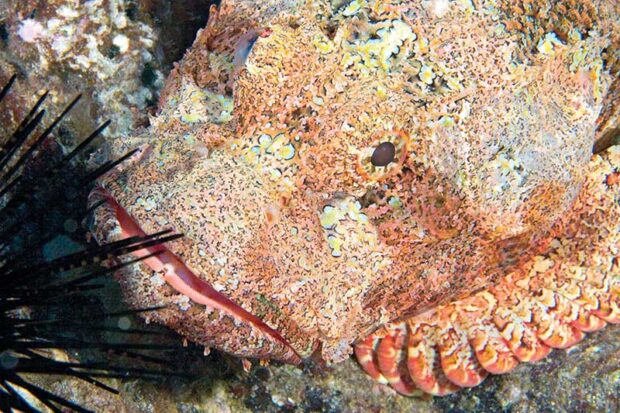 Dive site: Fish Rain
Location: E Molokai
Depth: 80-110ft (8-36m)
An overview of Maui County would be incomplete without mention of this gem. Mokuho'oniki Rock is located in the Pailolo Channel about one mile off the east end of Molokai. The secret is to leave very early in the morning before the trade winds pick up. Once you get to Mokuho'oniki there is always a place to dive and then, after your dives, the ride back to Lahaina has the trade winds behind you, so the pounding is to a minimum.
Any location around the rock is a good dive, but Fish Rain, off the corner that faces Lanai, is a favourite spot to seek sightings of scalloped hammerhead sharks. This one is for experienced divers as the site slopes down deep to 110 ft (36m). There are usually currents present as well, which is good as hammerheads like currenty areas. Toward Maui, the slope becomes a substrate of rocks and boulders that also levels out at 110 ft (36m). Look into the blue water for the hammerheads. On a good day, you may see a few or a school. The rare and endemic titan scorpionfish is a regular here along with huge jacks that send schools of butterflyfish, damsels, and bannerfish diving for the safety of the boulders.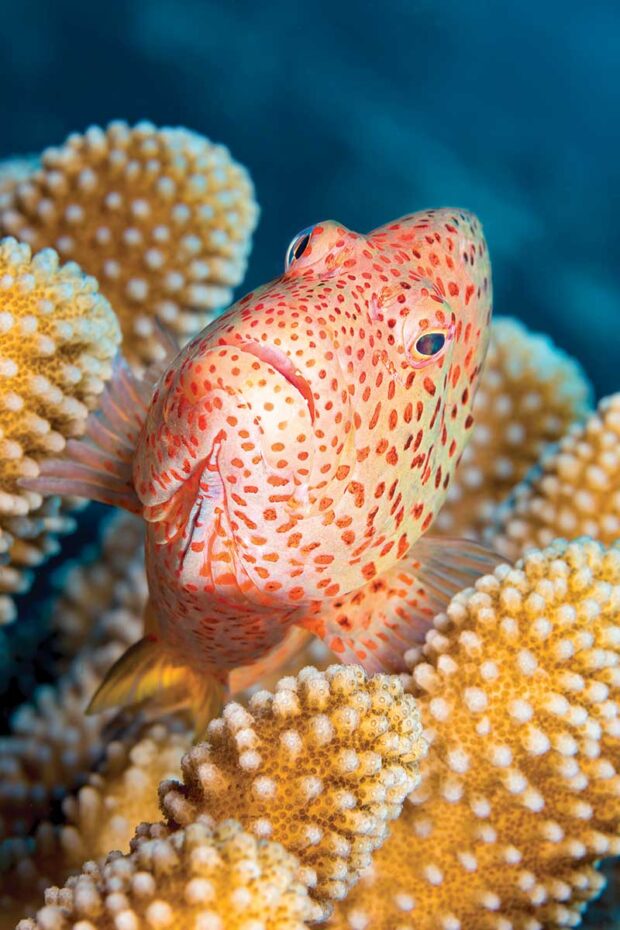 Dive site: Suck 'em Up / Skull Cave
Location: North of Puhili Point off Kohanaiki Beach
Depth: 12-80ft (4-24m)
 The first lava cavern is located in relatively shallow water with an entrance that starts at about 20 feet (6m) deep. It's a wide arch-shaped entry with views of broad sun beams that dance on the cavern floor. As you enter the cavern, take in the beauty of this natural structure and peek into the pukas (holes) along the cavern wall or scan the skylights above. At the end of the lava cavern is a small exit. Time your departure so you can get 'sucked' out with the surge. The dive guide will then lead you to a second structure at the site called Skull Cave, a roomy lava cavern with ample opportunities for exploration. Take your dive light to illuminate colourful sponges lining the cavern walls or spiny lobsters hiding in tucked away crevices. Swim through one 'eye socket', through the 'skull' and out the other 'eye socket' of this natural structure that looks like something from a Pirates of the Caribbean movie! This is a good site for whitetip reef sharks, moray eels, and colourful reef fish.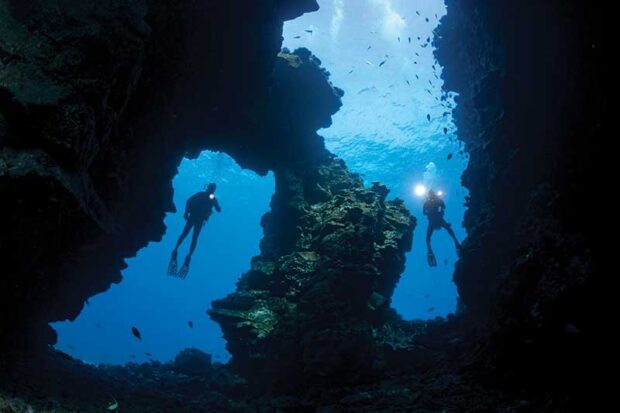 Dive site: Second Cathedral
Location: Two miles beyond First Cathedral
Depth: 10-70ft (3-18m)
Second Cathedral does not break the surface and is further down the south shore of Lanai. One of the two moorings here is in shallow water as the site is just ten feet (3m) down. From here if you swim west, away from Maui, you will drop into the more dramatic opening framed by volcanic archways. Look for sergeant majors tending eggs here. The cavern resembles a huge volcanic bubble that began to burst and then solidified. The main room has many entrances and exits. While a dive light is not mandatory, it is highly recommended to illuminate all the critters that hide in the corners. Among the many crustaceans that make their home here are eight different species of lobster and a variety of shrimp and crabs. Jacks will move in and out of the light and darkness looking to sneak up on a meal. Trumpetfish like the long crevices for stealth to surprise prey.
Outside the cavern are large, flittering schools of pyramid butterflyfish and an enormous school of bluestriped snapper patrols a small pinnacle on the east inshore side of the reef, which ends in a broad, sandy bottom. On the seaward side, the reef has areas of broken coral that form patches of rubble, which is a favourite habitat for day octopuses. This area is actually rather famous for its abundance of these intelligent cephalopods.
Divers who regularly glance into the blue water column can encounter an array of pelagic creatures. The whole area is fun to explore and people spend a lot of time in the chambers with dive lights poking around in the deeper reaches.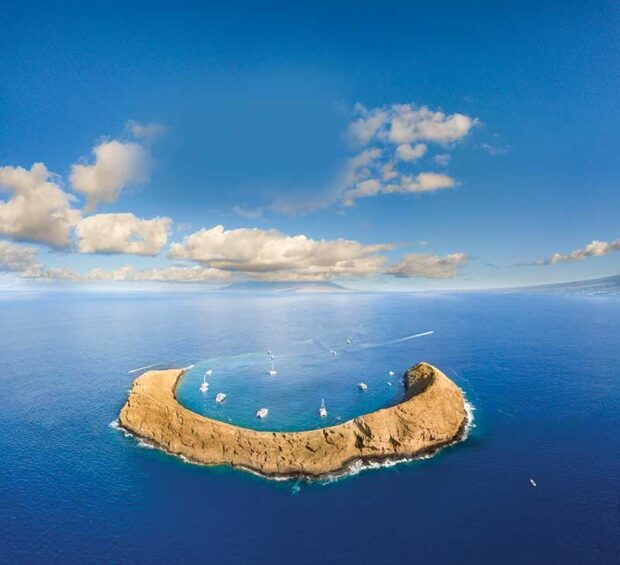 Dive site: Molokini – Backwall
Location: Alalakeiki Channel between Maui and Kahoolawe.
Depth: 50-110ft (16-30m)
The outside of the crater, referred to as the Backwall, is an advanced drift dive with no bottom in most sections. A towering 150ft (45m) crater cliff, indented from explosions back when Molokini was used for military target practice, drops to over 300ft (91.5m) below the surface, for a jaw-dropping wall drift that can produce some of Hawaii's most sought-after fish and marine mammals.
This is a protected area and designated as a State Marine Life and Bird Conservation District. It is best to dive at 50-80ft (15- 24m)letting the current carry you along the wall. Photographers and divers come out here for the chance to see the big stuff. You are likely to see gray reef sharks that occasionally visit a cleaning station, where they attempt to vertically hover while Hawaiian cleaner wrasse inspect them. Frogfish and crevices filled with soldierfish and lobsters keep divers focused on the reef but remember to glance into the blue, where humpback whales inhabit Maui waters from December through March.
If you don't see them, you will definitely hear them singing. A great white shark has even been seen passing by the outside of the crater. Manta rays can be spotted as well. Spinner and bottlenose dolphins may also approach divers, so have your camera ready. After this thrill ride, divers may do a gentler dive inside the crater for a second dive or try one along the Maui coastline. 
The 50 Best Dives in Hawaii: The Ultimate Guide to the Essential Sites
Tim Rock & David Fleetham
www.amazon.com
ISBN-13: 979-8652125363
Paperback: 192 pages
Digital: Kindle Edition