Advances in gear design & technology over 60 years may not make diving more fun, but it is much easier. And, a picture's worth a lot of words, we think!
Text by Phil Nuytten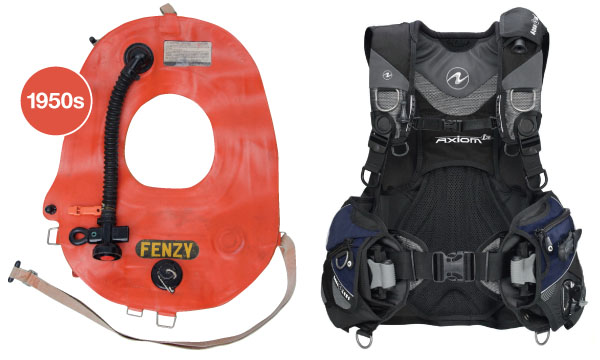 Bouyancy Compensators
Bouée Fenzy / Aqua Lung Axiom i3
The French Navy's Bouée Fenzy, left, was arguably the first effective BC. A horse collar style, its adjustable buoyancy was fed by small HP air supply on the back. Aqua Lung's Axiom is feature-rich with inflation/deflation system, integrated 'Wrapture' harness system for comfort and stability, integrated (mechanical release) weight system, pull down oral inflator, a bladder retraction system, pockets, D-rings, air dump options. Today's BCDs are superior safety gear,  offering a wider range of diver movement, comfort and many more features.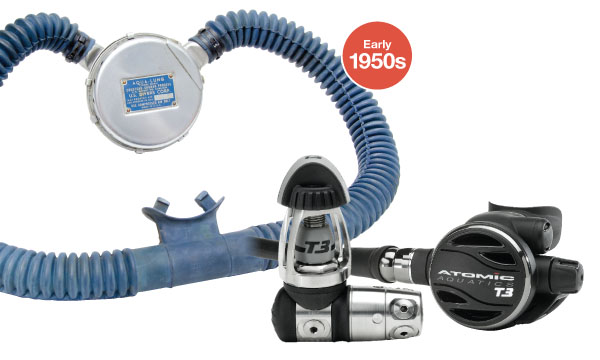 Regulators
Aqua Lung Blue Tag DA / Atomic Aquatics T3
Aqua Lung's Blue Tag DA double hose regulator was a two stage Cousteau-Gagnan design and the most commonly used in the early 50s. Atomic Aquatics' T3 is lightweight – first stage components machined from titanium.High flow piston first stage and second stage magnum lever design lowers breathing effort.  Patented automatic flow control. Full front purge.

Diver Propulsion Vehicles
Farallon DPV / SS Minnus 1.5
Many of the 'tow-subs' were homemade (car battery, 12 volt starter, outboard prop)  in the 50s but this Ralph Shamlian Farallon brand DPV was popular among early commercial units. The Submerge Minnus 1.5 scooter, right, is just 25 inches long and 38 pounds, powered by an advanced LiPO NMC battery offering up to three hours run time. Using a 24 volt motor and three speed throttle, it covers 225 feet per minute. The industrial grade HDPE construction provides a depth rating to 400 feet.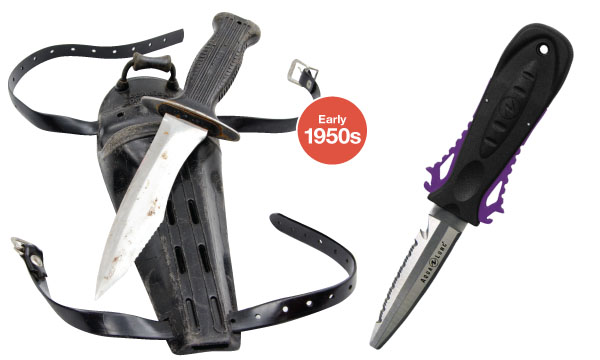 Dive Knives
La Spirotechnique Grimsbi Leg Knife/ Aqua Lung Squeeze Lock
This formidable looking French knife, like most in its day, was large and for strapping on the leg. "Is it for sharks," people asked. "Yes," I'd reply, "if they're threatening I use it to nick my buddy." Today, knives, like this one are compact, high quality stainless blades that can be mounted anywhere. This one locks into its sheath with squeeze handle.
Drysuit Boots
Thermal Sox / Whites  EVO 3
These early rubber booties were used by fishermen, hunters and others inside their leather boots, and were ideal to pull over the easily torn gum rubber dry suits too. Today, dive boots like these are hardcore footwear. The EVO 3 was designed in conjunction with the military and features heavy, dual layered sole, reinforced ankle support, drainage ports and reinforced toe and heel.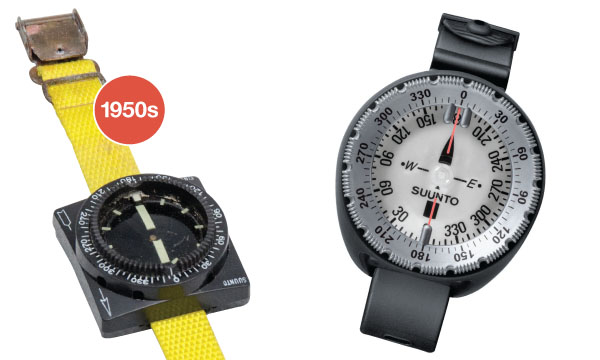 Underwater Compasses
An early Sunnto / Suunto SK7
A compass is a compass! The concept remains the same although there have been many design variations on offer through the decades, from wrist wear to gauge mounts to the digital compass incorporated in dive computers. Today's Sunnto compasses feature a +/- 30 degree tilt feature and rugged bezel.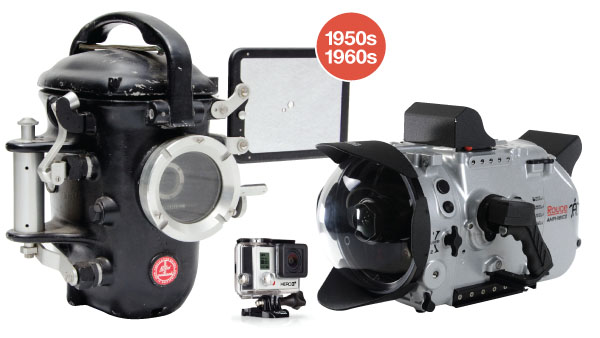 Film/Video Housings
Bolex H16 / Amphibico Rouge / GoPro Hero 3+
This Bolex 16mm movie camera and housing was the 'Cadillac' of its day, typically running a three minute load. Manual wind lever visible. We have come a long way! Amphibico's Rouge housing is for the RED Scarlet X and Epic cinema cameras. Dual electronic Amphibi-grips and menu control panel provide user access to all important key controls. And then there's the hybrid GoPro revolution with as much effect underwater as above.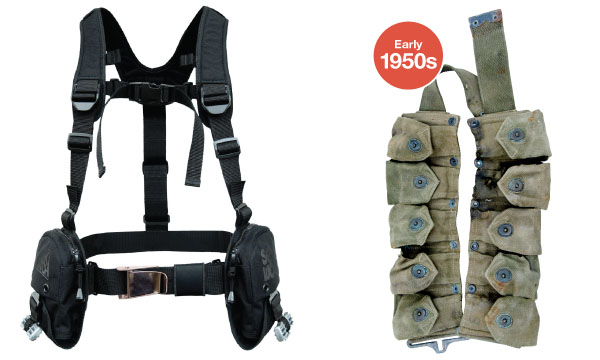 Weighting
Seasoft Seawolf / Ammo Belt
World War II cartridge belts, preferably with brass closures and webbing strap for quick release, were the order of the day in the 50s. Now weight is integrated in BCDs.Harnesses, left, are adjustable, use easy release ditchable weight pockets and do a fine job distributing the weight you carry.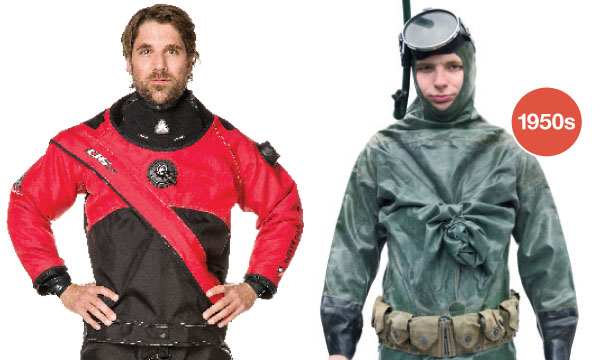 Drysuits
Waterproof D1 Hybrid ISS / Bel-Aqua
Bill Barada's two-ply Bel-Aqua suit, right, bonded a gum rubber inner layer to a rubber/plastic outside ply resistant to wear and tear. Front entry was sealed with surgical tubing. The Waterproof suit's two outer layers are separated from the inner 3D mesh lining with nylon springs that create an insulating air layer. The 3D mesh liner promotes air flow, keeps moisture away from the body and  combats squeeze and cold spots.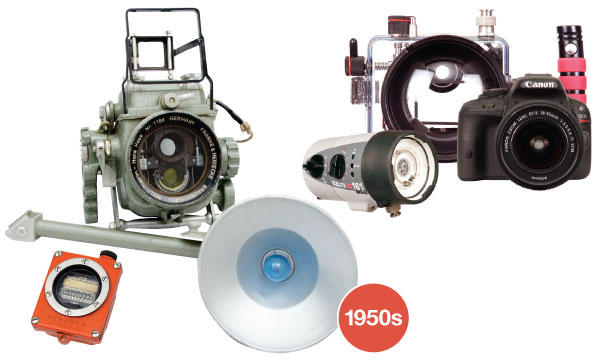 Underwater Photography
Rolleimarin 70mm / Ikelite 100D Housing & DS161 Strobe
The Rolleimarin was the Bentley of underwater stills photography in the 1950s. It packed 12 x 70mm film stock, illuminated by flash bulbs. The Fenjohn was a high end light meter. Today's smallest digital SLR can snap thousands of images onto a tiny memory card, record HD video using automatic exposure, light metering, and focusing. Housed in a lightweight polycarbonate case and complimented with LED quick charge strobes, glass or plastic dome ports and digital viewfinders.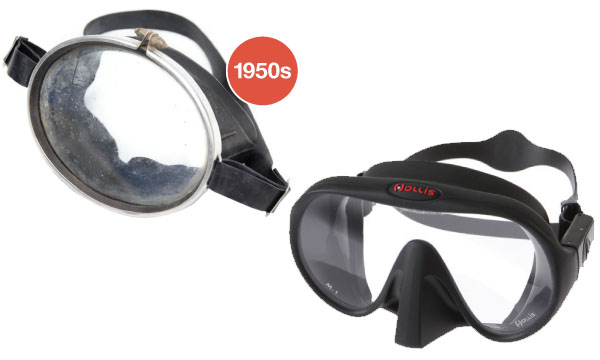 Masks
Squale / Hollis M1
The French made, low volume mask of the 50s was favoured by drysuit divers for its feathered edge that sealed well over drysuit hoods. The distinct oval window gave way to a shaped, extra clear, toughened glass with lower iron content allowing more light transfer and reduced green tint. Frames are a thing of the past with 100 percent pure silicone skirts for a soft, snug fit and an even lower volume. Quick adjust straps, and the big difference – the ability to squeeze your nose!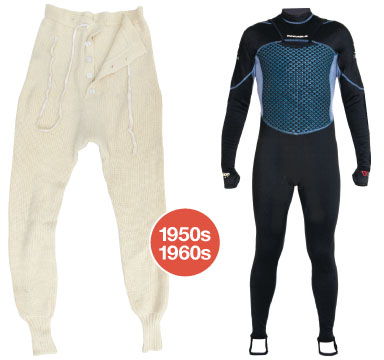 Undergarments
Wool / Pinnacle V-Skin
Two-piece, or back-flap entry wooly longjohns have evolved, but wool stands the test of time. Today, Merino wool-lined 'skins' are incorporated into tri-laminate material with a micro porous membrane and high stretch lycra outer. A technical combination of modern day fabrics combined with the tried and true.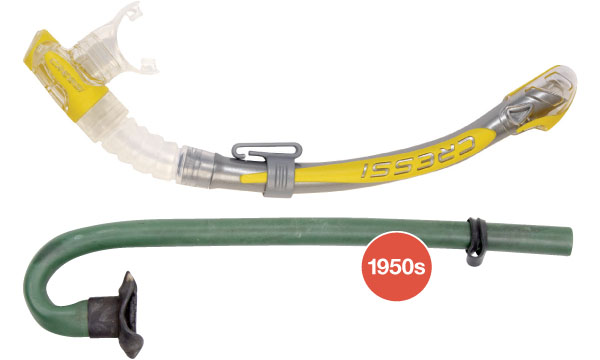 Snorkels
Cressi Sigma / Bel-Aqua Snorkel
You'd be forgiven for thinking that Bill Barada's much loved snorkel design couldn't be improved upon but think again. Although the soft mouthpiece remains relatively intact, a float activated dry valve can now instantly prevent water from entering through the top, a purge valve allows for easy clearing, flexible lower bores reduce jaw fatigue, and high quality silicone is now a standard replacement for rubber.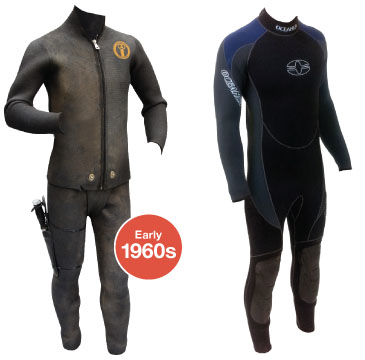 Wetsuits
Aqua Lung / Oceaner Performance
Iconic off the rack 60s wetsuits, shown far left, with sharkskin finish, were made of foam neoprene with a nylon liner. The 3/16th inch stock suit was followed by quarter inch after 1957. Advancements in neoprene have created tougher, stretchier, more flexible wetsuits with lycra edge bindings, and ultra stretch nylons. Lightweight plastic back zippers, kevlar kneepads and a range of colours, plus customizable printing of your own "tattoos" or logos are also on offer.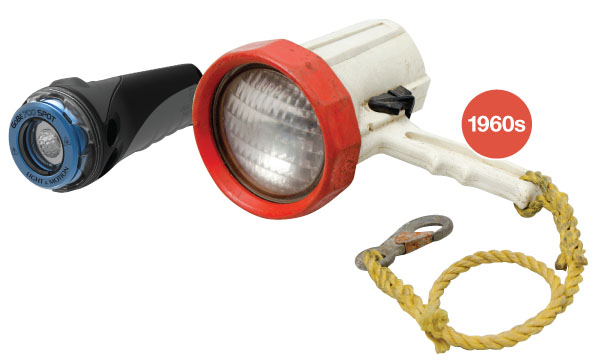 Dive Lights
Light & Motion Gobe / Ikelite
The preferred underwater lights for many years were large and heavy. With the introduction of LEDs they're now smaller, lighter and brighter. With pistol grips, helmet mounts, wrist mounts, interchanging light heads for wide or narrow beams, even black light for viewing phosphorescence. Quick charging, internal sealed battery packs and longer burn times.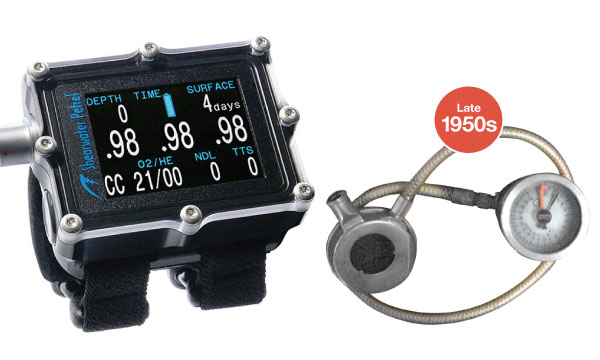 Computers
Shearwater Petrel / Kidd/Stubbs
The multi-tissue decompression computer, early version pictured, was developed by Derek Kidd and Roy Stubbs at Canada's Defense & Civil Institute between 1955-75. This marked the beginning of the modern dive computer. Since then dive computers have become increasingly sophisticated with their multi-colour digital HD displays, multiple decompression algorithms for air, nitrox, trimix, SCUBA and rebreathers. They offer adjustable conservatism, colour coded warnings, 1000 hours of onboard dive logs, and accompanying software to link to your home computer and dive sharing via social media.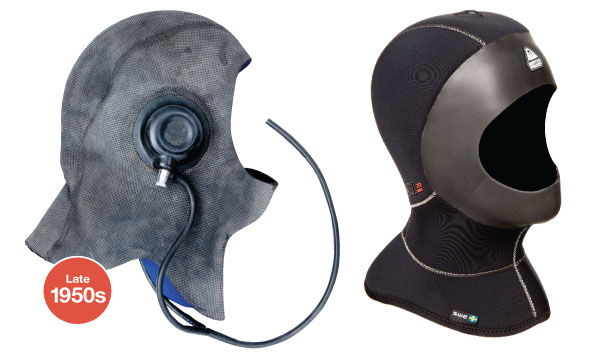 Hoods
Scuba Queen / Waterproof H1 510 Sandwich
A nifty old school idea that allows those with ear troubles to dive – a foam neoprene hood with internal ear cups. Two small holes connected by a hose run from a modified second stage and allow for regulated air pressure to surround the diver's ears. Nowadays no such product exists, but insulation has advanced with one way hood air venting systems, shaped fits, superstrech nylon, multiple layer neoprene and glideskin.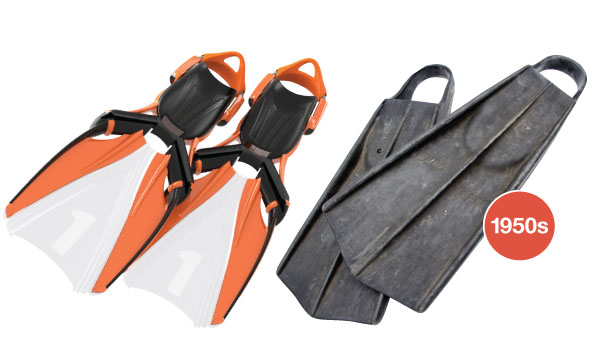 Fins
Aquabionic Warp 1 / Duck Feet
Gum rubber and neoprene composite fins of the 50s have been superseded by articulating actuators, spring straps and tensioning membranes. Gone are the heavy black fins loved by loyal 'duck feeters'. Today, lightweight and technically advanced is the preference.
One Response to "Dive Gear: Now and Then"