Digital Diver
Easy listening with Dive In: The Podcast
July 5, 2022 By DIVER Editorial
As the world consumed all the media at its sanitized finger tips, this past year one group of divers gave us access to a global roster of experts, professionally produced, free for all, and with a dash of East Coast humour…
Words & Photography by Nicolas Winkler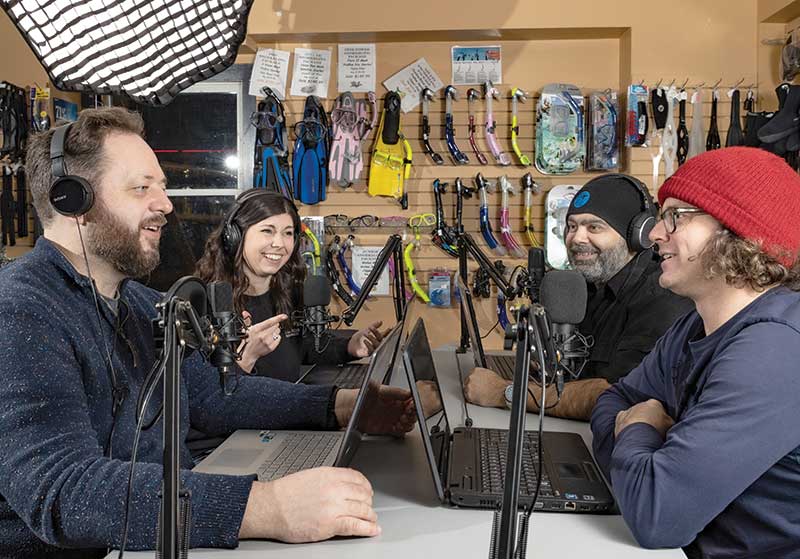 What is 'Dive In: The Podcast'?
Dive In is a weekly podcast for all divers. Whether they explore the oceans as a snorkeller, scuba diver, freediver, or tech diver, there's something for everyone to tune into. It is a light-hearted show hosted by four dive professionals and it's filled with diving news, feature interviews with guests from around the world, and interesting dive topics.
Tell us about the hosts.
First and foremost, we're dive instructors who are passionate about diving. Justin Miller is the local dive shop manager, who has a wealth of knowledge and experience in the industry, while April Weickert is the shop's assistant manager and founder of the all-women local scuba club, the SeaFoxes. Amit Parasram is an avid sidemount diver with a passion for technical diving, who is working towards his cave certification. Nicolas Winkler is an underwater photographer, competitive freediver, and freediving instructor, as well as closed circuit rebreather diver.
Where is the podcast hosted?
Physically, it's based in Halifax, Nova Scotia. However, our guests and listeners are global, though we infuse the show with a touch of Canadian East Coast warmth and humour.
How long are the episodes and what's the format of the show?
Our aim is for about 45 minutes, but with so many awesome guests it trends closer to an hour. It's pre-taped with the guest interview being the central piece, we try to keep it authentic with minimal editing.
How did the idea for the podcast first come about?
Like most ideas it started at the back of the local dive shop—in this case, Torpedo Rays Scuba Adventures in 2019, when April and Justin were thinking of recording a weekly beer and dive chat centred around local diving.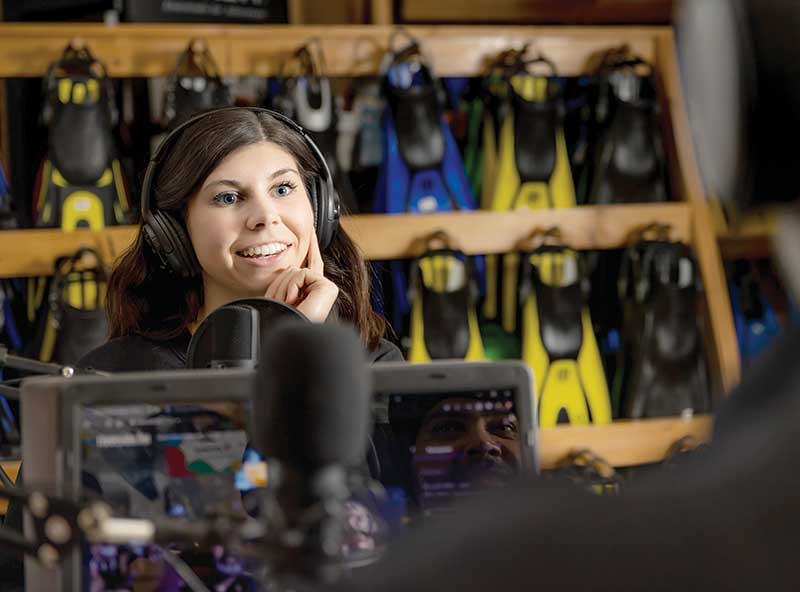 Did the idea take off right away?
We stumbled at the beginning, getting four hosts together in one room was a challenge. Justin had big dreams for a live video podcast from a studio we hoped to build in the basement of the dive shop, on the first attempt we failed to record the audio track. Ultimately, it was first pandemic lockdown in 2020 that gave us the time to start recording the show in earnest. 
Have you encountered other challenges along the way?
Most certainly! We had growing pains trying to find our identity and purpose as a show. We were worried we might quickly become irrelevant or boring, we really wanted to create a quality show. In the lead up to our anniversary, we went back to our first few episodes and cringed a little. Justin is forever trying new editing software and tricks to improve audio quality.
Four hosts for a podcast is ambitious. How do you manage?
Admittedly, it's a challenge to pull off each week. It requires a lot of coordination and constant communication. We solve these largely through good planning and collaborative software. It certainly requires good chemistry and camaraderie to pull off. What is unique is that we have four professional divers with a range of diving interests, experiences, and knowledge. Each one brings their passions to the table.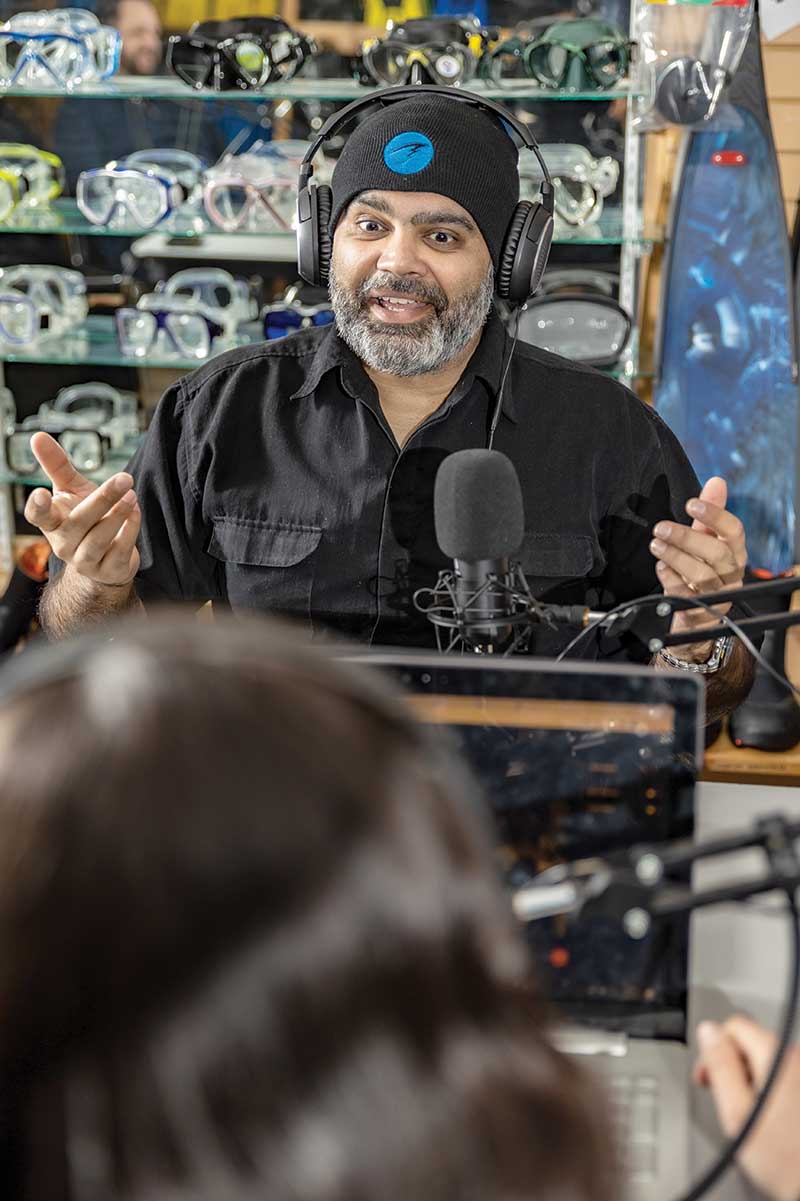 What are you trying to achieve with the podcast?
Once we found our groove, the show evolved to be a podcast for the dive community. Our feature interviews highlight our guests' diving stories, careers, and interests. Maybe there is a diver out there listening who will find inspiration from our guests—we certainly do! Host-created content is there to educate listeners through useful information. We were also conscious from the get-go of the need to remain factual about the topics we speak to. There's enough misinformation out there; we don't want to contribute to that.
What's so special about podcasting as a platform?
Podcasts give you tremendous control over publishing, over creativity. We didn't set out to tackle hard topics, but when guests talk about not seeing themselves represented in the community, or that traditional scuba training is undervalued, or they want to address issues in dive safety, we don't have to worry about shying away from those topics. These have probably been some of our favourite moments on the show.
Podcasts are also accessible, which means people can listen to them anytime, anywhere. We like to think that divers listen to our show on the way to a dive site.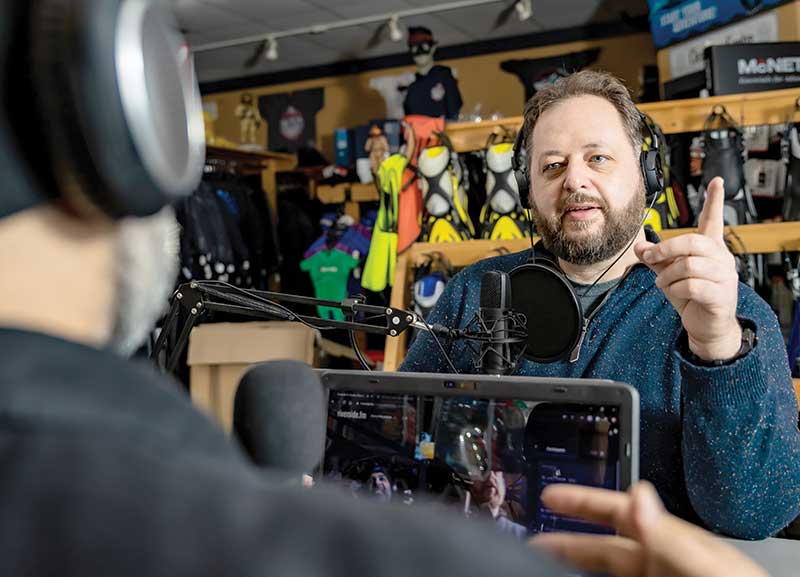 How is the podcast created?
Lots of emails! Leading up to each recording session, planning revolves around bringing guests onto the show. Hosts are responsible for creating content for their rotating segments—two of which feature each week—as well as writing questions for our interviews. Once recorded, Justin has four days to edit the episode, which the other hosts proof and select relevant audio clips for social media in time for Monday releases.
Was there anything you didn't want the show to be?
We didn't want to become a technical show—we're knowledgeable professionals with a range of expertise—but we won't pretend to know the intricacies of things like cave diving. There are plenty of great topical diving podcasts out there, such as Speaking Sidemount or the Freedive Café. We occasionally get a guest to speak to specific issues. For example, we spoke to researcher Dr. Neal Pollock about DCI and spent time talking about freediving hypoxia with neurosurgeon Dr. Juan Valdivia-Valdivia. That kind of information is fascinating physiology and helps dispel misconceptions that have safety implications for divers.
We did dabble with gear reviews early on, but it's something a lot of other outlets already do very well. It requires constant access to new kit from different brands and an unbiased perspective. Each of us is affiliated or works for a dive shop so we didn't think we could do gear reviews in a fair, honest way. It doesn't mean we never talk about gear, however.
So, we recognized those limitations early on and played to our strengths instead.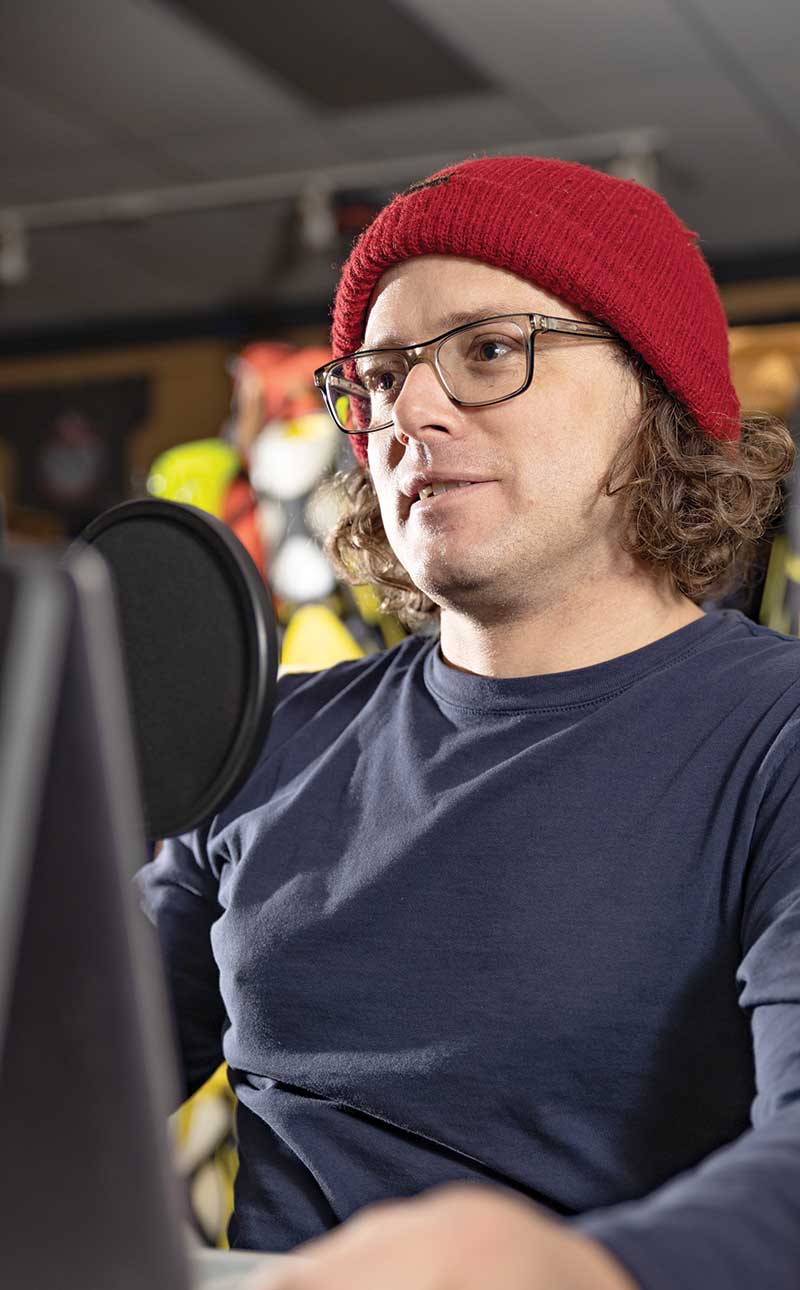 Why have host-created segments?
It gives each host an opportunity on the podcast to share their interests with the community and take advantage of our combined experiences.
What kind of content do you generate?
As an active dive instructor and leader of the SeaFoxes, April provides regular Pro Tips to listeners and showcases female divers in her Dive Girls Around the World segment. Justin brings vast his gear and diver travel experience for the Gearing Up and Travel segments. With his background in marine conservation and freediving, Nic writes the Think Blue and On a Single Breath pieces as well as providing book recommendations. Sidemount and Deco Stop are hosted by Amit whose passion for trim and attention to detail provides a bit of technical coverage for Dive In.
Who have your guests been?
It's a long list after more than a year of podcasting. Our guests have included talented local underwater photographers, world record-breaking freedivers, world-renowned cave explorers, international film producers, passionate ocean advocates, destination dive operators, marine scientists, and industry leaders.
What do you talk to guests about?
A common thread has been the shared passion that people have for diving. Every guest we've talked to has come to diving and experienced it or applied it in their own unique way. Showcasing stories has been incredible—whether guests are describing archeological dives on former slave ships, photographing the world's biggest freediving competitions, diving in vats of cheese, or being leaders in their dive communities. 
How has your feedback been?
Amazing! We've received lots of feedback from people who come up to you at local dive sites to tell you about an episode they enjoyed to listeners from around the world who send us messages.
Our biggest surprise is always when guests come on and complement us about the show's quality (it helps that Justin was a media editor in his former life). Not only do they give their time generously to our show, but they also take the time to listen to previous episodes. Which is probably wise since they have zero idea what they're getting themselves into.
What's next for Dive In?
It has been a tremendous privilege to chat with leaders in the dive industry we might normally not have access to, but we also want to chat with divers doing amazing things in their communities in different parts of the world who may not have received the same exposure. We'd like to tackle some harder topics too. Maybe we'll eventually get around to doing a live video podcast once the pandemic is over. 
Your signature closing question to your guests is 'what keeps you diving?'. We want to know: What keeps you podcasting?
Getting together as four friends to create content for the dive community each week, chat with passionate divers from around the world, and have fun while doing it—now that's something worth spending time on each week. 
You can find Dive In: The Podcast every Monday, wherever you get your podcast or at www.diveinpod.com