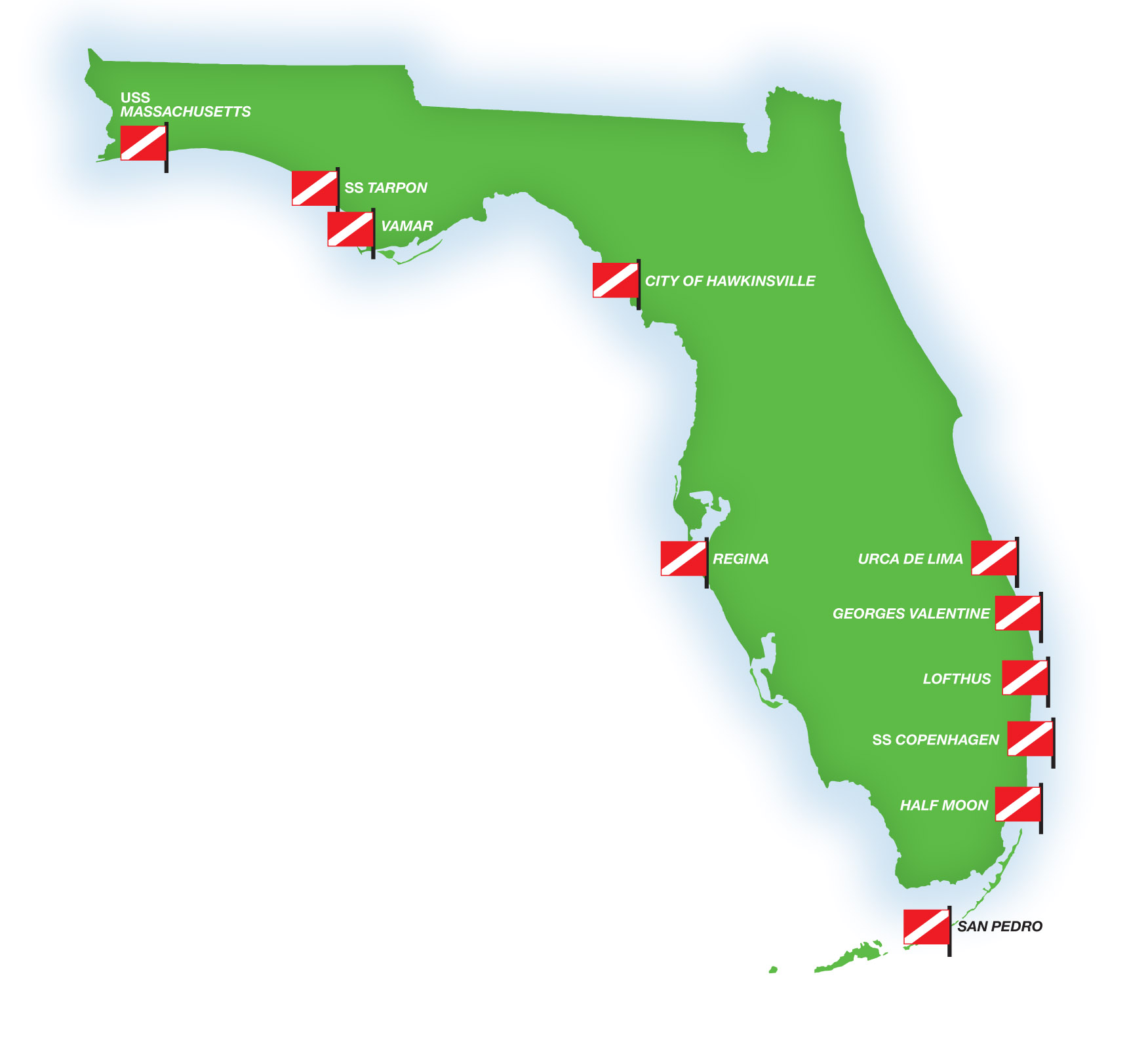 Underwater archaeological preserves reveal history of this sunny, seafaring state
Text by Franklin H. Price
For a landmass almost completely surrounded by the sea, it's no big surprise that maritime history figures prominently in its story. It's certainly true of Florida, southernmost of the continental United States and with the second longest seawater coastline in the country.
Neither is it surprising that state officials take measures to care for that seafaring past. Florida's Underwater Archaeological Preserves are integral to this effort and to date comprise eleven shipwreck sites that are protected in a partnership between local communities and the Florida Department of State.
Situated up and down the Gulf of Mexico and Atlantic coasts of the state, these wrecks offer divers a glimpse into different periods of Florida history. Interested in exploring the remains of an age-old galleon? Maybe the life of a tramp steamer holds more appeal? Perhaps a battleship is the order of the day, or for the competitive sailors among us, how about a racing yacht? All these wrecks, and more, can be found in near shore waters protected in their watery graves and waiting for divers to enjoy. 
Interestingly, these historical remains haven't been protected by decree. Rather, local waterfront communities nominated them for Preserve status. To be selected each historic shipwreck must meet certain criteria. To begin they must be in state waters, accessible to the public, have recognizable features, a verifiable identity, offer safe diving conditions and plentiful marine life.
Each shipwreck in this 'sea museums' collection has been scrutinized and interpreted. The resulting information for each is presented in a brochure, an underwater guide and on a web site (museumsinthesea.com). A stone monument with bronze plaque marks most of the wreck sites. These sites belong to the people of Florida. They've been preserved for their enjoyment, for the enjoyment of all. As with all of Florida's historic sites, the preserves are protected, so visitors are asked to "take only pictures, and leave only bubbles."
The Sites: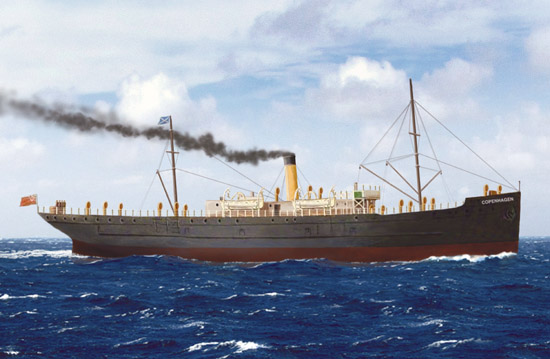 SS Copenhagen
Back in 1900, three-quarters of a mile off modern day Lauderdale-by-the-Sea the freighter SS Copenhagen hit a reef at full steam. The violent impact breached her double hulls, flooding her compartments. The Merritt and Chapman Wrecking Company salvaged her coal cargo and pumped out the water, but hull repair was unfinished when the team was called away on an emergency. Eventually the sea broke up the abandoned wreckage and she even came under a little target practice fire during World War II. Today, remains of the vessel lay flattened across the reef and are home to an abundance of marine life. In 1994, the popular dive site was designated Florida's fifth Underwater Archaeological Preserve, and placed on the National Register of Historic Places.
Over the years, Florida's Preserves program has successfully promoted diving tourism at wreck sites around the state. Nominated by a dive captain in the early 1990s, the SS Copenhagen has been embraced by the area diving community and is the most-visited preserve with frequent visits by local dive charter boats and shore side tourist promotion that together attract 10,000 visitors yearly.
USS Massachusetts
A Spanish-American War battleship, the USS Massachusetts was used for target practice off Pensacola for years after that turn-of-the-century conflict. Today, this oldest remaining American battleship is a shallow water artificial reef within two miles of Pensacola Pass.
SS Tarpon

A freight and passenger ship plying the Gulf Coast between Mobile, Alabama, Carrabelle, Florida, and points between, the SS Tarpon was a workhorse that made 1,735 trips between 1903 and 1937, when she was lost in a fierce storm off Panama City. Deepest of the Preserves, divers can explore her wreckage in 95 feet (29m) of water.
Vamar
Her colourful history began as a patrol gunboat, then a rumrunner, a polar expedition vessel and a tramp freighter. Known by a long list of names, Kilmarnock, Chelsea and Eleanor Bolling, she carried airplanes for Admiral Byrd's flight over the South Pole and was lost under mysterious circumstances off Mexico Beach in 1942. Espionage was suspected.
City of Hawkinsville
Built in 1896 in Abbeville, Georgia, this stern-wheeled steamboat was the last to ply the Suwannee River. Abandoned in 1922, much of the structure remains in place. Divers can explore the steam engine and machinery and see parts of the paddle wheel. Though a shallow water dive the low visibility makes the site better suited to advanced divers.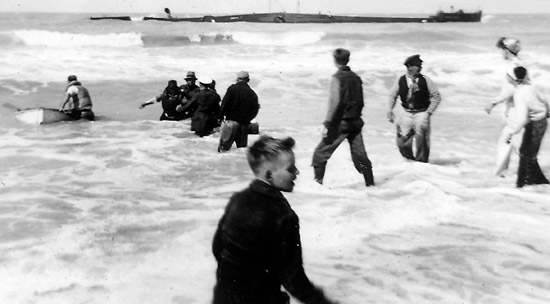 Regina
A sugar barge carrying molasses from Cuba to New Orleans, Regina sank off Bradenton Beach in a 1940 storm. Local residents and the U.S. Coast Guard mounted a rescue that saved all aboard except the ship's cook and his dog, who tried to swim ashore. In less than 20 feet (6m) of water and just 225 feet (69m) off the beach, this site makes an outstanding shore dive.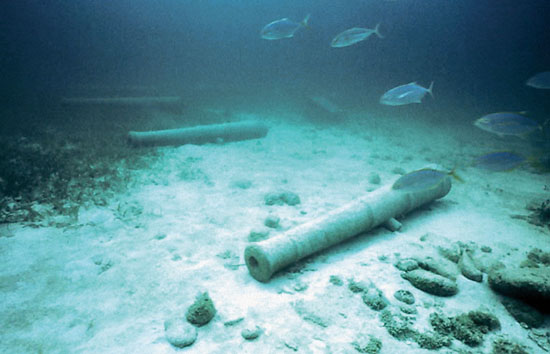 San Pedro

Part of a 1733 Spanish fleet lost to a hurricane in the Florida Keys, San Pedro was bound for Spain carrying a cargo that included precious metals. Later, Spanish salvors recovered more gold and silver than was listed in the official manifest, evidence of a smuggling attempt. Today, concrete replica cannons complement the original ballast pile. The San Pedro site is also a Florida State Park.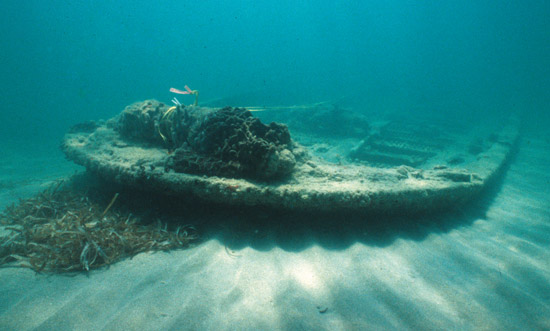 Half Moon
A German racing yacht launched as Germania, this 154-foot  (47m) long steel-hulled sailboat once won the Kaiser's Cup. The vessel was seized by British customs after she made an ill-timed stop in England at the outbreak of World War I. After a series of owners the yacht was renamed Half Moon and became a floating cabaret and fishing barge off Miami before sinking near Key Biscayne in 1930. Snorkelers and SCUBA divers can enjoy this shallow water site.
Lofthus

An iron-hulled barque launched at Sunderland, England in 1868, and of Norwegian registry, Lofthus was wrecked near Boynton Beach in 1898. She once had fake gunports painted on the outside of her hull to ward off Indonesian pirates. Today, her remains are in 15 to 20 feet (4.5-6m) just 525 feet (160m) off Manalapan.
Georges Valentine

A 767-ton iron-hulled barkentine, Georges Valentine had the ill fortune to run aground near Stuart in 1904, but the good luck to come to rest near the Gilbert's Bar House of Refuge, an aid station for shipwreck survivors. Seven of the 12 person crew made it to shore. The House of Refuge still stands, and displays artifacts from the incident. Today, divers can reach the site from the beach.
Urca de Lima

A Dutch-built storeship loaded with cowhide, chocolate, incense, sassafras, vanilla and private silver, Urca de Lima was part of the ill-fated 1715 flotilla bound for Spain from the New World. Although partially salvaged soon after her sinking, the site was mostly covered in sand until modern salvors recovered artifacts and several cannons, now in front of Ft. Pierce City Hall. In the 1980s the St. Lucie County Historical Commission petitioned the state of Florida to preserve Urca de Lima, leading to its designation as Florida's first Underwater Archaeological Preserve in 1987.
For more information visit: 
www.museumsinthesea.com
www.visitflorida.com