Canada
Wrecks
Gold Rush Interrupted
November 11, 2012 By DIVER Editorial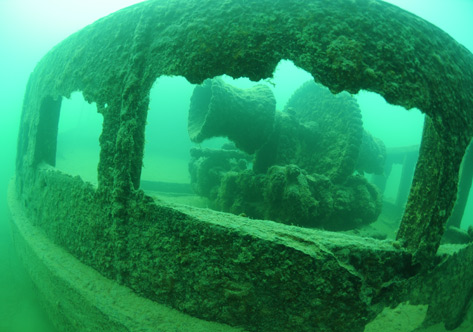 By Donnie Reid
Before she sank in a storm October 14, 1901, the sternwheeler, A.J. Goddard, was a workhorse ferrying people and cargo along the Yukon River during the Klondike Gold Rush era of the late 1800s. Like many other craft designed to service the huge influx of people to the region, the Goddard was a kind of 'prefab' built in San Francisco and shipped to Alaska where it was hauled inland through mountain passes to Lake Laberge in Canada's Yukon Territory. There it was reassembled and launched into a life of servitude.
Some 30 miles (50km) long and between one to three miles (2-5km) wide, Lake Laberge lies just north of Whitehorse and is a widening of the Yukon River, a vital waterway in the day and access to Dawson City in the north for the stampede of fortune seekers. A storied body of water, Lake Laberge is referenced in widely known north country literature such as Robert Service's poem, The Cremation of Sam McGee and Jack London's Call of the Wild.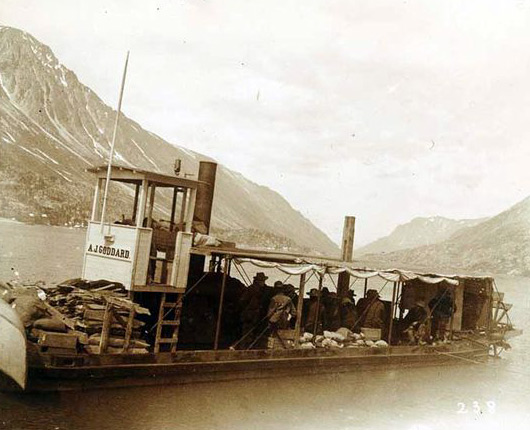 For more than a century the A.J. Goddard was lost to the shallows of Lake Laberge until 2008 when Whitehorse area diver Doug Davidge found her with a drop camera. Sitting upright in just 33 feet (10m) of water, the little iron steamer was largely intact and, fittingly, when an archaeological team led by sternwheeler historian and nautical archaeologist John Pollack descended on her remains in 2009, it was Davidge who first touched the long lost Goddard.
The divers discovered a scene frozen in time. "Everything was just like it was when it went down in that late October storm in 1901," said Pollack. They found firewood still in the boiler and on deck crewmen's boots, which had been hastily kicked off as they scrambled to abandon their ship. Sadly, three men lost their lives in the sinking.
National Geographic said the A.J. Goddard was the top archaeological find of 2009. It is designated an historic site though divers are permitted to explore the wreck, photographer Donnie Reid says, offering a cautionary note on water temperature in the 36-38°F (2-3°C) range. And that was in June!
Photograph taken just off Goddard Point in Lake Laberge, Yukon Territories, using a Nikon D300 with a Nikkor 10.5 mm lens in a Sea & Sea housing. Exposure f/4.5 at 1/80 second with ambient light at ISO 200. Photo ©2012 Donnie Reid