Dive Industry
Heinerth Receives Sir Christopher Ondaatje Medal
April 9, 2014 By DIVER Editorial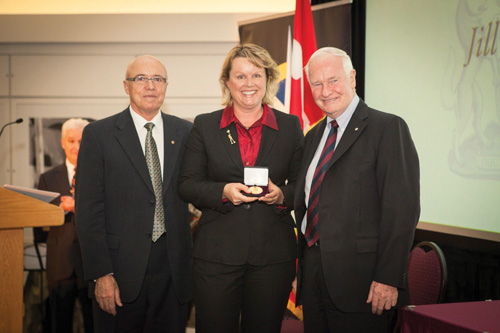 DIVER columnist and Suunto ambassador Jill Heinerth, a pioneering underwater explorer, has been awarded the inaugural Sir Christopher Ondaatje Medal for Exploration by the Royal Canadian Geographical Society. She received the prestigious award at Ottawa's Museum of Civilization on November 13th in recognition of her outstanding achievements in the field of exploration.
"It is an incredible honor to be recognized with such a significant award in my home country," Heinerth said. "I'm proud to join the ranks of the remarkable Canadian explorers who came before me." Heinerth has been at the forefront of underwater exploration for almost 20 years. An award winning filmmaker, she is a Sport Diver Magazine 'Living Legend' and is an inductee of the New York-based Explorers Club.
With a focus on the water world Heinerth cycled almost 4,350 miles (7,000km) across Canada with her husband last summer, creating awareness for her 'We Are Water' project that puts a spotlight on the dwindling supply of fresh water in the world.
The Sir Christopher Ondaatje Medal for Exploration was Established by the Royal Canadian Geographical Society in 2013, to recognize singular achievements and the pursuit of excellence by an outstanding Canadian explorer or a non-Canadian for exploratory achievements within Canada. The medal celebrates Sir Christopher Ondaatje, a renowned adventurer, author and philanthropist. Through his travel and writing, Ondaatje has contributed to a greater understanding of the world and the relationship between people and lands.