Archaeology
Rare Huron Pottery Found in Laurentians Lake
April 9, 2014 By DIVER Editorial
By Jeffrey Gallant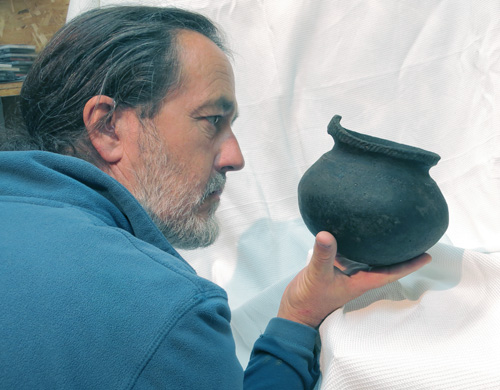 Divers Jean-Louis Courteau and Jacques Lech were exploring a Laurentians lake for an old truck that broke through the ice nearly a century ago when they came across something just a tad older. In fact, their find in November was likely a once-in-a-lifetime discovery. What they saw on the gravel lake bottom in just 33 feet (10m) appeared to be a rusted old pot but closer inspection revealed an intact piece of original pottery. Though they gave the object little attention at the time, they photographed it and brought it along for later inspection. Little did they know they were the first humans to lay eyes on the clay pot in nearly half a millennia.
Only during the boat ride back to shore did the divers start to realize the magnitude of their find. Once in the open air, the handmade vessel appeared unlike anything they had ever seen. Unnoticed by them in the lake's dark green waters were intricate motifs etched on the outer surface of the pot. Other distinctive characteristics included a single, spout-like feature on its rim, which was marked all around with linear impressions.
The first archaeologists to examine the artefact say it appears to be of Huron (Wendat) design and likely predates European contact. Such vessels were used mainly for preparing and cooking corn soups, to store food and to carry water and other goods. Further study will permit researchers to better determine its origin and age, since Huron lands were far west of the discovery site until about 1609 when a number of Wendat traveled east to negotiate an alliance with the French.
The rare artefact is now in the hands of government authorities for appropriate care and later exhibition of the unique piece of First Nations history. An artist, Courteau fashioned a clay replica as a memento of the astounding discovery.
3 Responses to "Rare Huron Pottery Found in Laurentians Lake"