Marine Life
News Briefs – Quadriplegic, Shark cancer, wreck, Scuba Board
April 9, 2014 By DIVER Editorial
Niagara Certifies First Quadriplegic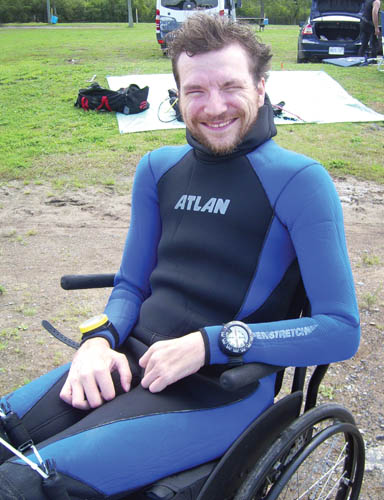 Quadriplegic Mitch Brogan recently qualified as an HSA Advanced Open Water Diver in the Niagara Frontier area of Ontario, Canada, and holds the distinction of being the first graduate of a new local program launched in August to train disabled divers.
The new Handicapped SCUBA Association (HSA) program graduated its first class of students, who now become divemasters and dive buddies to the disabled – from quadriplegics to the blind. The 10 Niagara Frontier area grads qualified to help the disabled experience life underwater are Marilyn Rundle, Nestor Kopko, Susan Holmes, David Hurst, Gordon Ross, Anne Jackson, Jaia Konik, Adam Kostiw, Nicole AuCoin and Program Director Felicia Kostecky, who launched the program with help from HSA International founder, Jim Gatacre of California, who assisted with the course.
"The demand for SCUBA for the disabled in Canada and the U.S. is strong," Gatacre said. "It offers a new world of freedom, exploration and activities that they can really enjoy." Brogan trained through the facilities of Adventure Scuba & Watersports in St. Catharines, Ontario.
Kostecky said the students will now form the base for sharing the joys of SCUBA with more people who would otherwise not have access to the diving experience. Brogan agrees, saying, "I feel a sense of freedom diving. It's amazing that this opportunity is here in the Niagara area where there are so many diving attractions."
The (HSA) is dedicated to serving the estimated 3.6 million Canadians and 49 million Americans with disabilities and millions of others around the world. Based in California, its international diver education programs and Instructor Training Course (ITC) were developed in conjunction with PADI and NAUI. HSA has more than 3,500 qualified instructors in 45 countries.
Information:  visit www.hsascuba.com or contact Felicia Kostecky, felicia@kostecky.ca
or JimGatacre, has@hsascuba.com
Shark gets cancer
A tumor protruding from the mouth of a great white shark "was a very unusual sight" not previously observed, says Rachel Robbins, a shark biologist at the Fox Shark Research Foundation near Adelaide, Australia. The tumor measured one foot (30cm) long and wide, as described in a study published online in the Journal of Fish Diseases. Scientists have now documented tumors in 23 shark species, evidence that dispels the belief that the animals are immune.
Historic Wreck
Thunder Bay divers David Shepherd and Robert Valley claim the tugboat Mary Ann, which they found sunk near the Welcome Islands, close by their Ontario hometown, was the first boat to be registered in the Dominion of Canada, in 1867, the country's year of confederation. The wreck divers say they found the tug accidentally while scanning for another wreck. Sunk in the 1930s, it's in remarkably good condition.
Scuba View
Popular online SCUBA diving forum ScubaBoard.com wants your opinion – the unvarnished truth – on diving. What do you think of our sport? Is SCUBA diving an expensive hobby? Is it risky? Is it for men and women? Do you have to be a good swimmer to be a diver? Is it one of those sports that allows little room for error… make one mistake and you're toast! Weigh in on the conversation. Go to www.scubaboard.com and let 'em know what's on your mind.