Dive Gear
Pinnacle Black Ice Drysuit and V-Skin Undergarment
March 28, 2014 By DIVER Editorial
Text By Russell Clark 
Scuba diving in the waters of Vancouver, British Columbia can be a chilling adventure. Not only are our waters pretty cold all year round, but the Emerald Seas of the Great White North are also fed by icy waters from snow capped mountains. All in all, diving here can get very, brrrrrrr. 
I've gone through about 4 drysuits in as many years, most of which have failed to live up to my expectations. The toughest thing to find it seems, is a drysuit that balances warmth, with flexibility and durability. 
Pinnacle told me they had the answer; a Black Ice drysuit paired with their Inferno V-Skin undergarment. I was assured I would be toasty, even during the recent cold snap and snow flourishes.
Inferno V-Skin
At the heart of Pinnacle's suit range is their merino lining system. This begins on the undergarment, a one piece, snug fitting Logan's Run style jumpsuit (left). 
The V-Skin is made from a tri-laminate material with high stretch lycra outside, and a breathable merino lining under the arms and in the back and sides, with extra merino fleece on the chest. Yummy. 
Heel and thumb loops make it easy to put on, and a chest overprint allows for water to run off easily, and offers resistance against wind. 
You can use this undergarment as a base layer to a wetsuit, or maybe even as a wetsuit replacement in tropical waters. But we're not interested in that!
The Inferno V-Skin fits tightly, and after a minute or two, even in the snow you'll be getting hot under the collar. It's quite remarkable. 
There's no zip to it either, you just step into it and pull. An over-the-head velcro closure takes a little while to get used to, but keeps everything snug up top and well fitted around your neck and shoulders. Jennifer Lawrence wouldn't look out of place wearing this in the next Hunger Games movie.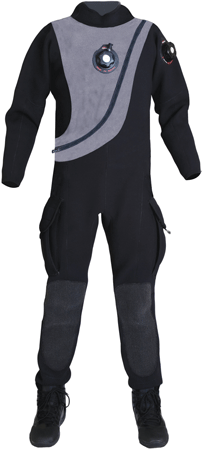 Black Ice Drysuit
When taking this suit out of the bag, my first impression was how incredibly soft and flexible it was. It had an instant 'wow' factor I've not experienced from a neoprene drysuit. 
7mm neoprene, thermocompressed to 4mm gives you good insulation whilst maintaining that balance between flexibility and toughness. 
Some of our shore entries in British Columbia involve clambering down rocks, fallen trees, and crawling across fields of barnacles. A tough suit is a necessity, not a luxury. So a set of kevlar kneepads is a welcome edition. The interior of the suit is again lined with Pinnacle's trademark merino wool, and not just a little bit, but a lot, even in the socks. This merino really does lend a lot of extra insulating properties. If you've never worn it before, you'd do well to buy a sweater and see for yourself. 
The attention to detail on this suit is also very re-assuring. This is a suit that has been designed by divers, and it shows. A neoprene neck seal plus thick, heavy duty latex wrist seals make a great combination. The Black Ice has a front entry zipper that you can actually use on your own – rather than asking your buddy to unzip the last two inches, as well as two pockets – each with webbing loops and shock chord. A set of suspenders you can unclip, Si-Tech valves, inflator hose, drysuit bag, and a merino lined hood are also included.
One detail I found particularly interesting was the overprint on the back, a gripping fine rubber print to stop you sliding around when sat on a wet surface, such a boat – brilliant.  
So how does it feel and how does it dive? Rather splendid on both counts, thanks for asking. 
Getting into the drysuit is easy, mainly because it's so damn flexible. I felt like I could do yoga in this thing. Even squeezing your head through the neck seal wasn't too bad. The Inferno V-Skin as an undergarment works particularly well since it's so form hugging. A good fitting Black Ice drysuit pulls over nice and easily.
The seals are super comfy too. I love the neoprene neck seal, but have always preferred latex wrist seals, this is the first time I've had a combination of the two and must say they compliment each other nicely.
The combination of V-Skin and Black Ice are a world away from my previous shell drysuit, thermal layer and bulky undergarment. It felt slimmer, more natural, a lot more flexible and infinitely more comfortable.
Under the waves the story continues. An hour long dive in seas of 44 degrees fahrenheit (7 degrees celsius) was much warmer than I expected. I was a little sceptical that the thin V-Skin would be enough as an undergarment. But it seems that merino wool really does know it's stuff, and when your drysuit is packing that as well, it seems you can stay very warm.
Sidemount or back mount, long surface swims or deep dives with deco, the Black Ice proved it's worth. And was it that worth? Well less than two grand, at most stores. You really can't grumble at that.
I gave the suit to Brandon Rogers, cold water instructor and local dive store Manager, he loved it too; "The drysuit nips getting cold in the booty". Eloquently put. "I loved the self entry zipper, and the flexibility in the suit is truly amazing." Well said. "You aren't getting cold anytime soon, I sure was toasty!" Indeed.
The Pinnacle Black Ice, paired with Inferno V-Skin is a match made in cold, watery heaven. Flexible, really comfortable and very warm. A fantastic combination we would not hesitate to recommend to anyone looking for a quality cold water drysuit.
For more information on Pinnacle drysuits and undergarments, click here.