Dive Industry
Tom Mount 1939-2022: Remembering Technical Diving's Renaissance Man
April 6, 2022 By DIVER Editorial
Words By Bill Nadeau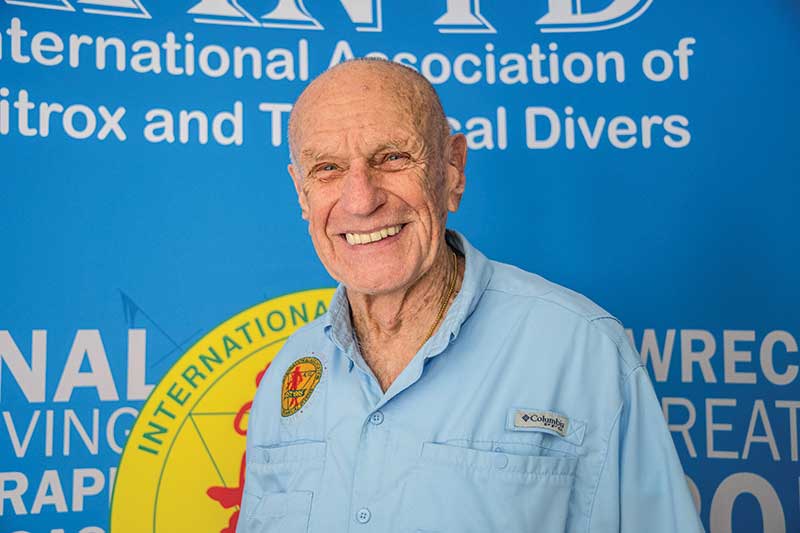 We began this year mourning the loss of one of the recreational diving industry's greatest pioneers, Tom Mount. The NOGI award winner and founder of IANTD and NACD logged more than 10,000 dives and remained active up until his death in January of this year, at the age of 82. 
Tom was known around the world as a sagacious leader who embraced life by expanding the potential of others. His deep understanding of diving sciences was only surpassed by his determination to remain active as a diver and a teacher. Throughout his entire career Tom represented the industry as an ambassador branded by humble professionalism. He was committed to championing the evolution of extended range dive training by developing groundbreaking standards that minimized risk not just for divers and explorers, but the industry as a whole. Tom's legacy however, left more than a global ripple that advanced diving sciences. He inspired multiple generations of explorers and entrepreneurs to carry on in their own pursuit for knowledge and sharing. 
There is not much about Tom Mount's accomplishments that has not been written already. Just Google his name. His influence on his fellow diving pioneers has been deep, so I invited a few of the industry's trailblazers to share their perspectives on Tom's leadership philosophy. In doing so, I discovered that many attribute their own successes to the influence of Tom's work. 
Michael Menduno is an award-winning journalist and DIVER contributor, and is well-known as the creator of aquaCORPS. Menduno identified Tom Mount as the leader at a table of leaders, who steered change with quiet confidence.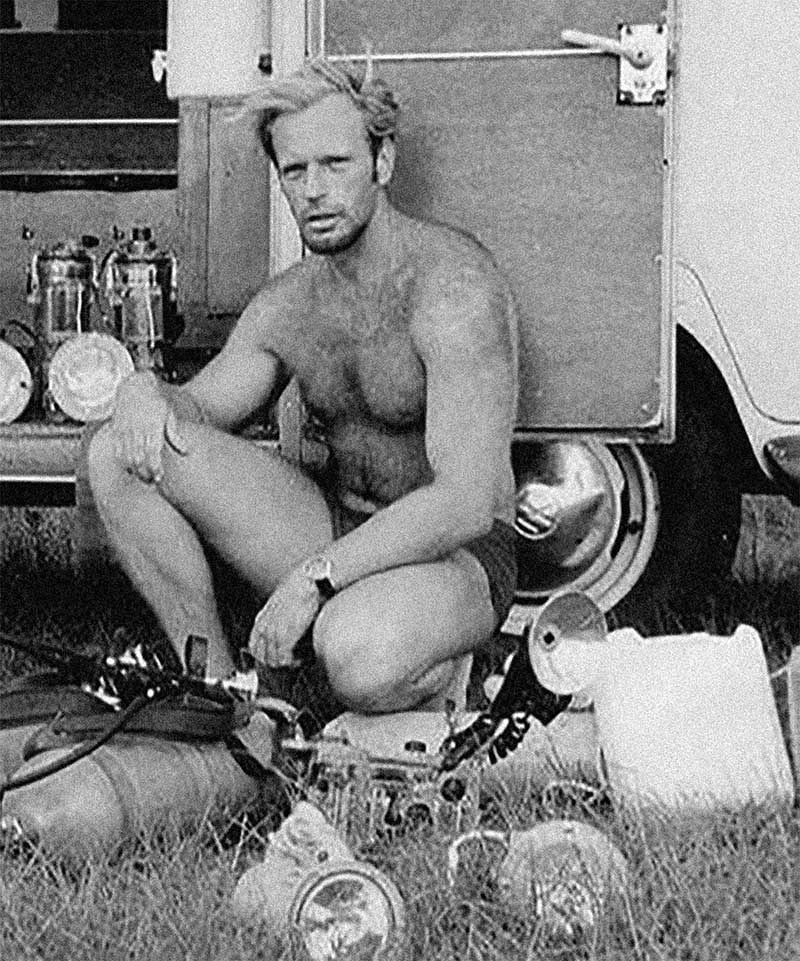 Pioneer
Tom engineered extended-range diving genetics in 1968 when he and four other iconic cavers founded the National Association for Cave Diving (NACD). The NACD was arguably the first training agency in North America to provide programs outside of recreational diving limits.
With tenures as a US Navy Diver, NOAA aquanaut, and Diving Officer for the University of Miami, Tom's scientific background resonated with Dick Rutkowski, a Diving Safety Gases and Life Support System Specialist. Rutkowski, an early nitrox pioneer, had been training scientific divers to use oxygen enriched air (nitrox) for many years when he looked to expand his program to the recreational market in 1985. After forming the International Association of Nitrox Divers (IAND), Rutkowski began to consult with Tom and the two developed strategies to overcome the recreational diving industry's reluctance to adopt their program. Rutkowski told me it was Tom's confidence that "science would always win over bullshit" that led him to bringing Tom onboard at IAND.
One of the most significant turning points in the launch of nitrox and mixed gas diving in the recreational market came after a determined campaign led by Tom, Rutkowski, and Ed Betts (with whom Rutkowski had formed American Nitrox Divers International (ANDI) in 1988) to have one of the most influential associations in the industry rescind the ban on enriched air mediums. The three flew to California in 1991 to convince the executive at DEMA that the science behind nitrox was legitimate and that the increased demand for divers to be trained in it was inevitable. Their efforts proved successful, sanctioning the inaugural attendance of their respective agencies at the next DEMA show. That same year Tom allied with Bret Gilliam and Billy Deans to expand the IAND program to include technical diving and the training agency was rebranded as IANTD.  As Menduno put it, Tom was "one of the grey beards at the table" who, at the time, "built the world's first technical training agency, pulling together the lion's share of the big names in more than a dozen countries".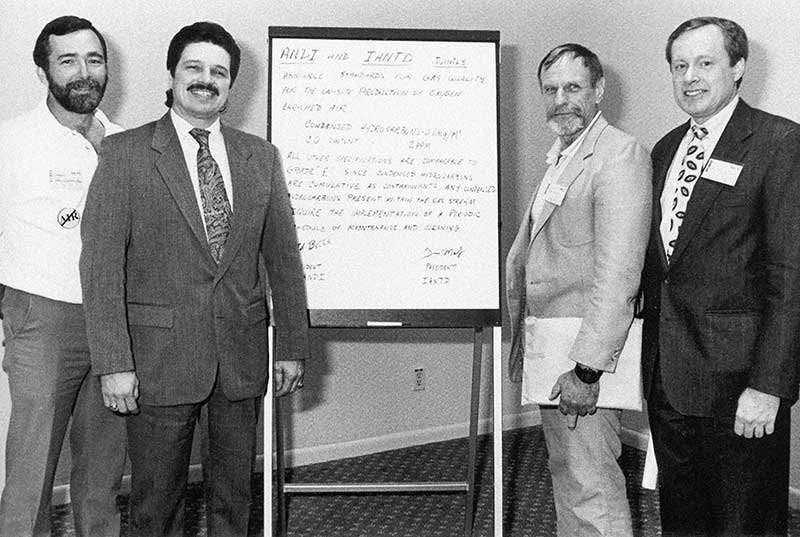 Inspired by their successes, Gilliam launched Technical Diving International (TDI) in 1994, an organization which has grown to become one of the largest training agencies in world. Gilliam credits Tom's contributions to the industry, which spanned over six decades, as part of the success story: "His understated, articulate mentorship had a profound influence on those with whom he worked." Differing approaches to blending methods created tensions between agency founders and their followers, yet Tom's commitment to drive a collective leadership led to some settlement on a middle ground – avoiding a collapse in confidence by potential nitrox contemnors. 
In 1960 Tom, along with other caving pioneers including Hal Watts and Frank Martz, began laying line in many of the Florida cave systems. Tom and the team often dived to 300 fsw (91m) and deeper, and eventually set a new deep air mark in 1965 at 365 fsw (111m). Those feats were remarkable even by today's standards, especially considering the rudimentary equipment used, including plastic gas cans or bleach bottles for buoyancy compensators. By 1967 Tom had logged more cave dives than anyone else in the world. It was Tom's accomplishments in the karst world that drew the attention of Canadian entrepreneur Dr. George Benjamin who was exploring the Blue Hole's on Andros Island in the Bahamas. The complexity and depth were beyond Benjamin's limitations so soliciting Martz and Tom's expertise was critical to the success of his project. A year later Tom returned to the Blue Hole to assist Jacques Cousteau on a film project aboard the research vessel Calypso.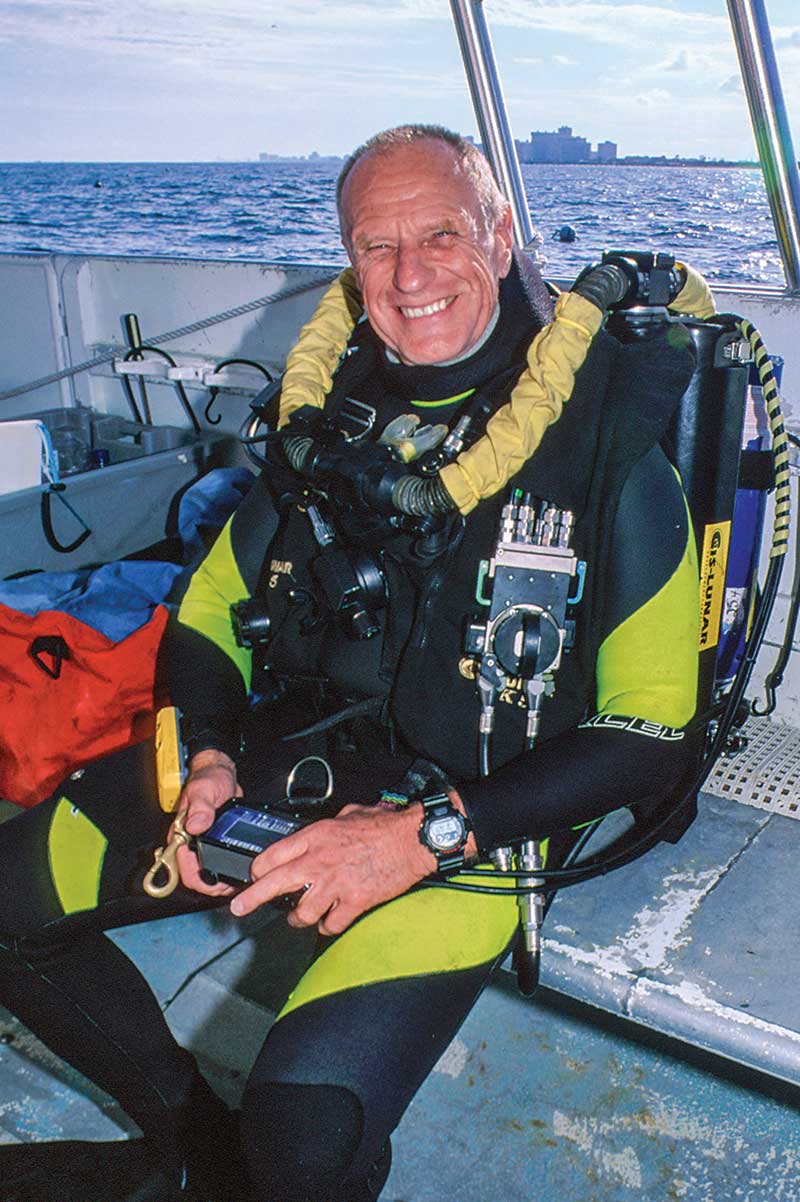 Modest legend
Despite Tom's accolades and achievements throughout his life, he remained a man of modesty. As Gilliam explained, Tom was a "celebrated celebrity but always had the time to chat and share his personal knowledge with others. That made him truly special." I was witness to this on many occasions, each time impressed by the interest he expressed in my well-being, enhanced by his warm smile and the glint in his eye. Those who had the privilege to meet him will have fond memories of his ability to engage in authentic conversation and the notably distorted digits of his firm handshake. 
I first met Tom first in 1997 when I went to work for IANTD in Miami to develop some of their programs. Daunted by the prospect of staying at this legend's home, I was made to feel at ease by his modesty. Tom took a special interest in supporting the development of nitrox and technical diving in Canada, and that included endorsing Canadian talent like Jill Heinerth. Heinerth said it best when she described Tom's leadership approach as a philosophy that encompassed mindfulness, one that never disparaged students: "He found a way to lift them up and encourage their development with honesty". 
Tom's leadership philosophy was built around loyalty, family, and emotional intelligence. Through his survival training and martial arts programs, he sought to develop confidence in those around him, helping them realize that anything is possible: "What the mind believes it can achieve." He pursued his life endeavours not with the intent to make them the biggest or the best, but the purest. Tom once shared with his extended family, "Looking at all these exciting developments makes me bubble with delight as to how great they are, and why I love all of you who have contributed to this effort. Thank you for being part of this journey where others only follow".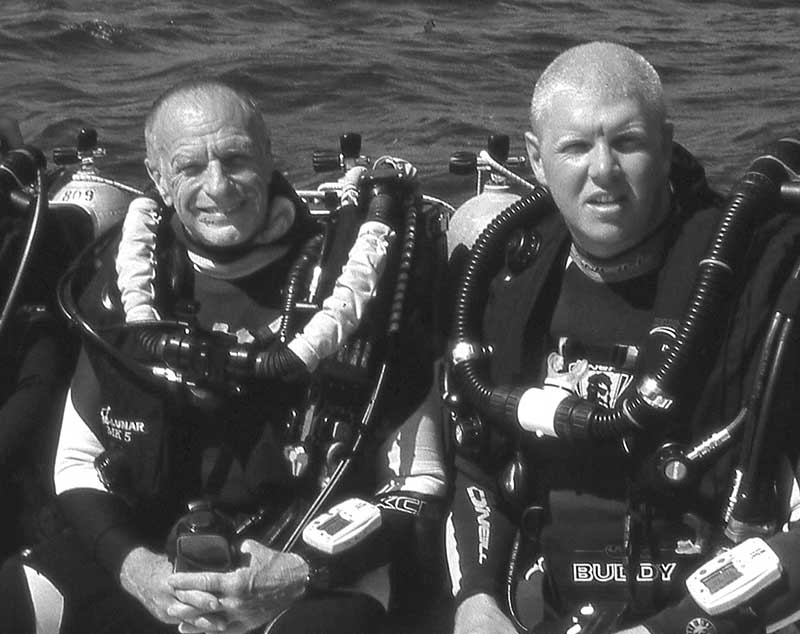 For over 30 years Bill Nadeau (above right with Tom in 1999) has been involved in the development of extended range diving programs for a number of diver training agencies and is an IANTD Instructor Trainer Trainer.