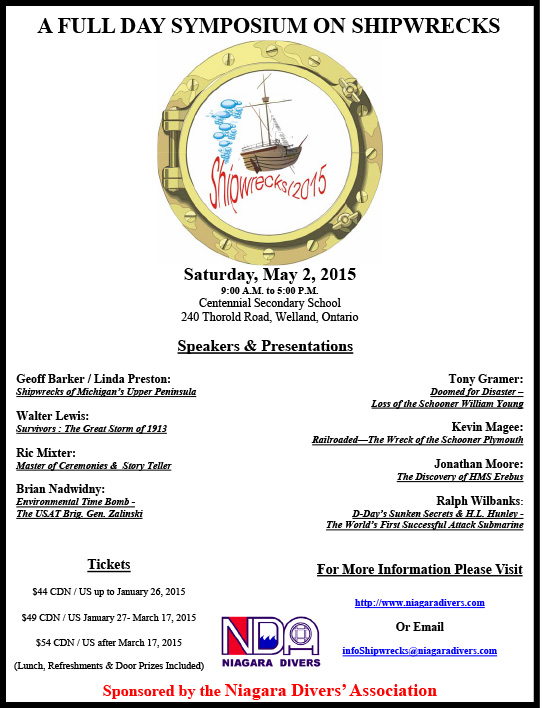 The Niagara Divers' Association will present its 21st Annual Shipwrecks Symposium on Saturday, May 2, 2015. This one-day symposium on shipwrecks will feature multimedia presentations with internationally renowned speakers from both the United States and Canada. $44 CDN / US up to January 26, 2015; $49 CDN / US January 27 – March 17, 2015; $54 CDN / US after March 17, 2015; / lunch included.
Click the image above for a larger view. 
This year, we are very excited to have eight primary multimedia presentations including:
• Ric Mixter: Master of Ceremonies & Story Teller
• Geoff Barker / Linda Preston: Shipwrecks of Michigan's Upper Peninsula
• Tony Gramer: Doomed for Disaster – Loss of the Schooner William Young
•  Walter Lewis: Survivors – The Great Storm of 1913
•  Kevin Magee: Railroaded – The Wreck of the Schooner Plymouth
•  Jonathan Moore: The Discovery of HMS Erebus
•  Brian Nadwidny: Environmental Time Bomb – The USAT Brig, Gen. Zalinski
•  Ralph Wilbanks: D-Day's Sunken Secrets & H. L. Hunley – The World's First Successful Attack Submarine
Again for 2015, there will be several 5-minute shorts between the primary presentations introducing new speakers, and featuring several new discoveries.
On-line registration now available.
Pre-registration required: for more information contact infoshipwrecks@niagaradivers.com
For more info, visit: www.niagaradivers.com