Canada
Eau Canada: Air Head
December 16, 2013 By DIVER Editorial
Divers encounter jelly with a bubbly personality
Text and Photo by Trisha Stovel
During a recent search for six gill sharks with Rendezvous Dive Adventures, I encountered one of my favourite critters: a fried egg jelly. In the end, we didn't see any of the elusive sharks during our time in Barkley Sound but that jelly encounter on the west coast of Vancouver Island made up for it. The experience and the animal were definitely out of the ordinary.
Approaching the jelly I could see what looked like pearls around its bell and tentacles. In fact, they were air bubbles trapped inside, most likely from divers swimming below. It was near some kelp beds and in relatively shallow, clear water, with plenty of natural light. It was a photographer's dream and one of the most beautiful scenes I've observed underwater.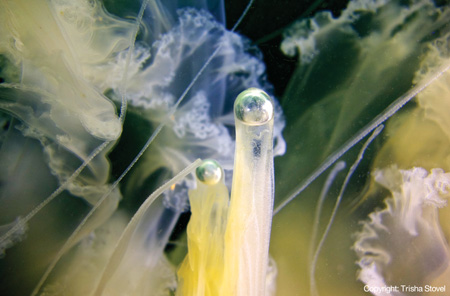 For the time I spent alongside the jelly it was happily swimming upside down. Though these jellies can grow considerably larger this one was more impressive than most I've seen because of the shiny air bubble accessories adding to its frilly, rather feminine form. I'll never know for sure how the bubbles got there but they looked very cool, creating an image strange and striking all at once, and fabulous for photography.
I've had the privilege of diving in many places around the world, but I have to say British Columbia's marine life inspires me the most. As an underwater videographer I'm always on the lookout for the unusual so this encounter was a treat. And a great consolation prize.
These jellies are well named. Looking down on the bell, they look just like a fried egg: brilliant yellow centre and white on the outside. Even the texture seems right. Their tentacles drift away, lending a certain grace to the animal as it moves through the water, or maybe it just looks like a poached egg when it's first tossed into scalding water.
This jelly was laid back, enjoying its 15 minutes of fame in the video spotlight. I didn't want to leave. It took some coaxing from my buddies to move on. Such are the moments that make diving so addictive for me.
Photograph taken in Barkley Sound, British Columbia, using a Sony RX100 in a Nauticam housing and a single Keldan Luna 4V video light. Exposure ISO 400, F3.2 at 1/160 shutter speed. www.batgirldiver.com