Dive Gear
The million Euro sQuba car
January 2, 2013 By DIVER Editorial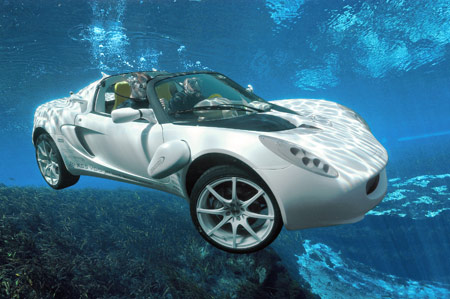 A Bond car that flies underwater! Q would be proud.
The sQuba is an extraordinary concept car, designed by Frank M. Rinderkecht of the Swiss Rinspeed Design Company, and is the world's first truly submersible car with a diving depth of 33 feet (10m). This amazing sports car is powered by rechargeable Lithium-ion batteries supplying current to several electric motors. Three motors are located in the rear, one for propulsion on land and two to drive propellers while underwater. There are two more motors up front – Seabob jet drives – for maneuverability while submerged.
The sQuba was built to dive; from the salt water impervious interior to the corrosion resistant custom alloy wheels to the integrated air supply system. Take it down the boat ramp and out onto the ocean; motor over to the dive site, open a door to flood the driving compartment, grab your mask and the onboard regulator, and descend down to cruise the reef.
On land, with a top speed of 75mph (120km/h) and 0-50mph (0-80km/h) in just over 7 seconds, this electric sports car has the zip to get you in and out of traffic. Special rapid bio degradable lubricants were manufactured to compliment the zero emission motor. The adjustable suspension allows you to set the sQuba car's pitch and roll behaviour to match your own driving preferences. And if you just want to watch the scenery, the sQuba is equipped to drive autonomously. Thanks to Ibeo laser technology, with a push of a button, the sQuba's 'intelligent' laser eyes scan the road and safely steer the vehicle through traffic.
This is the perfect car or underwater scooter for the driver/diver who has everything.