Canada
Winter wonder
February 6, 2012 By DIVER Editorial
A mid winter opportunity to dive Browning Pass in B.C.'s Queen Charlotte Strait delivered up cold February winds and rain… but when they abated and the sun came out we were treated to some of the best visibility I'd ever enjoyed in these remarkably fertile waters at the top of Vancouver Island. The plentiful phytoplankton that colours this rich northern sea emerald green is noticeably reduced in winter due to a conspicuous absence of sunshine during the festival of precipitation that is our concession to snow on Canada's rain coast.
So when the winter sun does shine down into what can be spectacularly clear water, and you're an underwater photographer who happens to be on-site when these natural events converge, the opportunity is gratefully acknowledged and the shutter is tripped – furiously – in anticipation of a change that can occur in the blink of an eye. On this occasion the rewards were plentiful. As you can see, my upward camera angle recorded a lovely blue sky that contributes to the water becoming almost tropical blue. And then there's the splendor of a marine world lavish in its extravagant colour and profusion!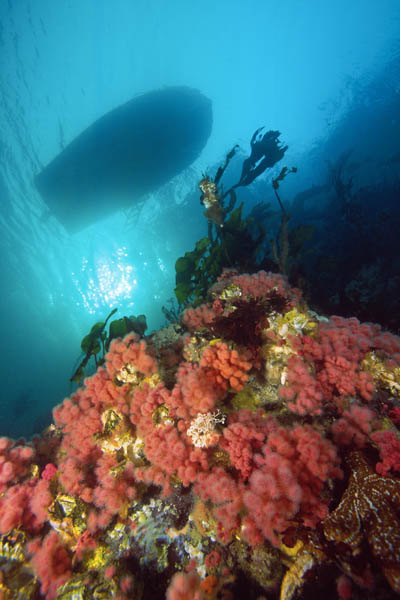 The heavy tidal currents that surge through these northern passes contribute to this abundance. The fast water delivers fast food that nourishes and sustains the ample variety of fauna to be found on Browning Wall and throughout the region. At this particular spot I happened to glance up when our dive boat drifted overhead to pick up some of our group of divers. By moving into position along the top of a wall covered in Basket Stars (Gorgonocephalus eucnemis) and Red Soft Coral (Gersemia rubiformis), I was able to make this shot. I thought the boat hull in the background handily served to underscore the exceptional visibility, in combination with the invitingly warm colours of the foreground marine life that was, in fact, all around me.
Over the years I've had the privilege of diving many locales along the B.C. coast and I can say that this particular place – and some others – are truly special. I'd go so far as to say this place should be sacrosanct in the same way Banff National Park or Yellowstone National Park are in the terrestrial world.  Without question this place deserves the same protection, yet it seems at times as though the powers that be just don't appreciate the importance of saving such an extraordinary marine wilderness. I keep the faith they'll take the right action in my lifetime. Considering Canada has the longest coastline in the world by a wide margin, our government really needs to pick up the pace and do the right thing before it's too late. So ends the sermon. Keep on diving… it's the source.
Photograph taken in Browning Pass off the north coast of Vancouver Island in British Columbia, using a Canon EOS A2 with a Canon 15mm Fisheye lens in a Delphinus underwater housing. Two Ikelite S200 strobes provided fill light.  Exposure f11 or f16 at about 1/60th of a second on Fuji Velvia100 film pushed to ISO 200. Photo: © Dale Sanders – www.DaleSanders.info http://www.DaleSanders.info