Dive Gear
The Drysuit You've Always Wanted
June 28, 2012 By DIVER Editorial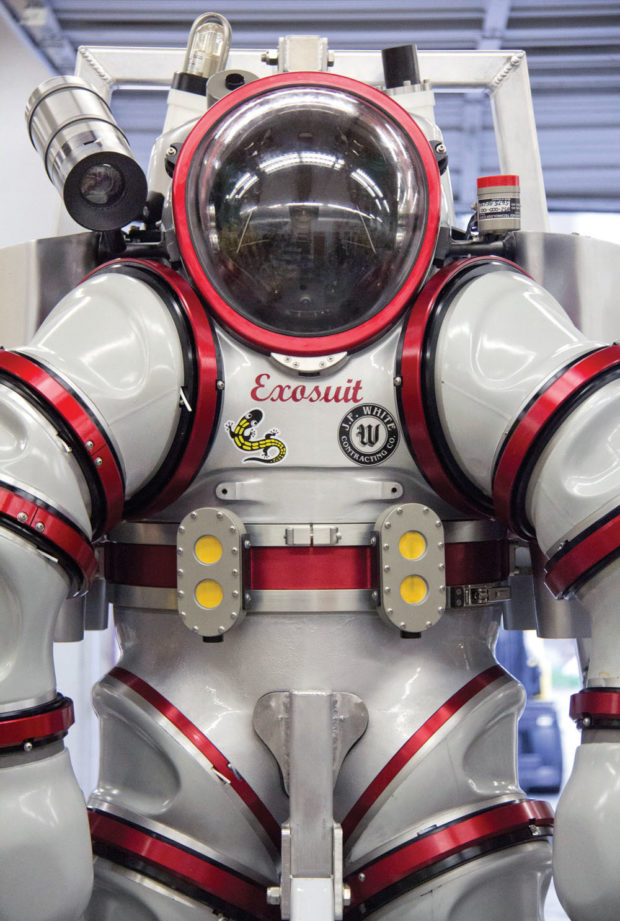 This Exosuit is production model 001 and the first in a series of three designs from Nuytco Research of North Vancouver, B.C.
From the first ergonomic mock-ups and tests to its unveiling last month, the Exosuit has been in development for a decade. It's the latest generation atmospheric diving suit (ADS) conceived by inventor Phil Nuytten whose earlier Newtsuit was made possible by the rotary joint principal, which he patented in 1985.
What's different about the Exosuit? A great deal. A lot has changed in 25 years, especially in the field of electronics. The 'Exo' has the same 1,000-foot (305m) operational depth rating as the Newtsuit, but is much lighter. The joint torques are much lower, the teardrop shaped vision dome allows the pilot to work in an upright position instead of the 45 degrees off vertical position that Newtsuit pilots often adopt because of the smaller spherical dome.
Here's some cool stuff. The Exosuit can be controlled entirely from the surface. In fact, it can be converted to an unmanned ROV to investigate potentially hazardous sites before diving a manned system. The thrusters are magnetically coupled – droppable – and completely ducted to minimize loose line 'suck-in' hazards. The new electronics allow complete life support monitoring from the surface. And the hits just keep on coming.
Another difference sure to be popular: the whole enchilada – suit, umbilical, surface control consoles, power supplies, etc., costs half as much as previous ADS suits operational today. Next in the series is the 'swimming' model, and after that, the five-fingered 'Prehensor', a pilot-operated human hand system that executes delicate/intricate tasks like a human hand. All the Exosuits are designed to incorporate this future technology, which is now in final development.